South Africa's largest neighbors are oceans. The country is bordered by the Indian Ocean to the east and the Atlantic Ocean to the west. South Africa's interior is semiarid; largely made up of dry scrub and desert. There are no navigable rivers and no large lakes in South Africa. The largest rivers are the Limpopo and the Orange rivers. Navigating the waters near South Africa is difficult due to strong ocean currents. The Portuguese explorer, Bartholomew Diaz, was the first to sail around the Cape of Good Hope in 1488, a historic achievement that opened the way for exploration of the New World.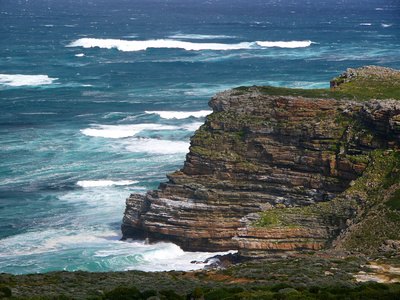 The Indian Ocean
The Indian Ocean forms the eastern border of South Africa. A strong current, called the Agulhas flows south along South Africa's coast toward Antarctica. The current is stronger and swifter than the Gulf Stream and more dangerous to vessels, because it flows between land masses. Winds up to 110 miles per hour blow along the Agulhas current from September to October. Monster waves that sink vessels occur when the winds shift direction and blow against the Agulhas current. The cities of Port Elizabeth, Durban and East London are located along the Indian Ocean coast of South Africa.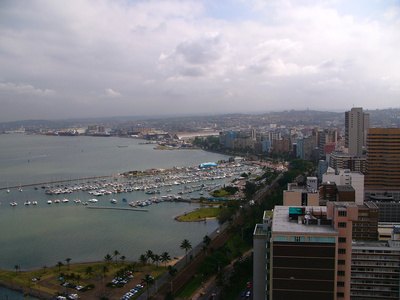 The Atlantic Ocean
The Atlantic Ocean forms the western border of South Africa. A strong cold current, the Benguela current flows north from Antarctica along South Africa's western coast. This current carries large amounts of plankton and provides food for the abundant fishing grounds. The combination of the Benguela and Agulhas currents provides abundant rainfall along South Africa's coasts as well as turbulent conditions on the ocean's surface. The city of Cape Town is located on the Atlantic Ocean coast.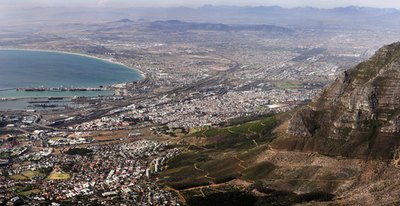 Limpopo River
The Limpopo River runs through South Africa and neighboring Botswana, Zimbabwe and Namibia. It empties into the Indian Ocean. It's the second longest river in Africa. The slow-moving Limpopo is not navigable but does provide a source of water for villages located along its length. There are 350 bird species found in the Limpopo River watershed. Crocodiles and hippos are abundant in the river and elephants, bushbucks and impala are commonly sighted along its banks. The area around the Limpopo is generally grassland.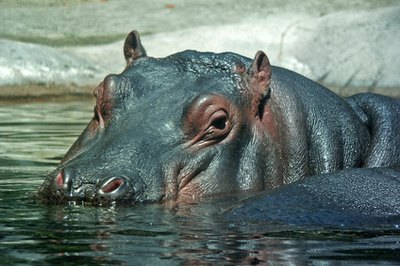 Orange River
The Orange River forms the border between Namibia and South Africa before emptying into the Atlantic Ocean. The river is bordered by rough mountain terrain and, in some areas, desert sand dunes. This river is responsible for the rich diamond deposits found in Namibia. It carried the diamonds from South Africa's volcanic pipes to the ocean. Ocean currents transported the diamonds to Namibia's coast. The Orange River is used to irrigate grapes and citrus crops.