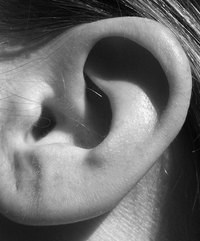 The entire space of the middle ear is only about 1/8 inch across, according to the Hearing Info website, and it holds the three smallest bones in the human body. Together, these bones are called the ossicles. The ossicles pass vibrations of sound from the eardrum into the inner ear, and damage to even one of the delicate bones can result in partial or total hearing loss.
Malleus
The malleus is the first bone in the chain of three bones that sit inside the middle ear. It is closest to the opening of the ear and is attached to the eardrum from the inside. Its nickname is "the hammer." Its function is to transfer vibrations from the eardrum to the incus, the second bone located inside the middle ear.
Incus
The incus is the middle bone of the chain. Its slightly concaved end fits against the bulbous "hammer" of the malleus, giving it the nickname "anvil." The incus receives vibrations from the malleus and carries them to the stapes, the third bone located in the middle ear.
Stapes
The stapes, or "stirrup," fits into the space known as the "oval window." It completes the vibration chain by releasing sound into this membrane-covered opening to the inner ear. The stapes gets its name because one end is shaped much like the stirrup on a saddle.