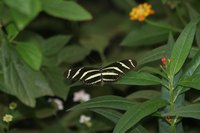 Some of the most rare, interesting and beautiful animals in the world are residents of the rainforests of Brazil. To this day, Brazil contains nearly one-third of our world's rainforests, as well as much of the Amazon. It is reported that there are at least 15,000 different kinds of mammals, birds and reptiles that exist within these rainforests.
The Anaconda
The anaconda, also known as the water boa, lives in swampy, murky surroundings. The anaconda is the largest snake in the world and has no trouble swallowing its prey whole. Much of its hunting is done at night, making it a nocturnal creature of the rainforest. Once it has eaten, it can go weeks without food. Anacondas never stop growing; the largest one ever reported was 37.5 feet in length. Anacondas spend much of their time casing shallow waters for its meaty and unsuspecting prey, smelling prey by use of a long tongue.
The Jaguar
The jaguar, an endangered species due to loss of habitat, is a solitary cat that dwells in the Brazilian rainforest. These large but graceful cats are carnivorous and grow to be between four and six feet in length, not including their tail, which can grow to be up to three feet long. The jaguar's diet consists of birds, reptiles, mammals and turtle and alligator eggs. Being nocturnal, the jaguar does most of his hunting at night and is considered one of the most powerful of all feline predators.

The Keel-Billed Toucan
One of the most amazing things about the rainforest is its vibrant presentation of color. The keel-billed toucan is a prime example of the rainforest's rich colors and distinct qualities. What this bird lacks in flying skills, he makes up for in social skills. The toucan can grow to be about 20 inches long and its beak makes up for one-third of its size. Male toucans are often larger than females, and both are likely to roost in the hole of a tree. Toucans have a strong taste for fruit and a knack for swallowing them whole. They have been known to eat bird eggs, insects and tree frogs. Toucans are also an environmentally-friendly inhabitant of the rainforest because after they've swallowed a piece of fruit whole, they will proceed to regurgitate the seeds to distribute those live seeds back into the forest.

The Howler Monkey
The loudest of all monkeys is the howler monkey. It is also the largest monkey in all of North, South and Central America. Howler monkeys are territorial creatures that live high above the rainforests of Brazil in a canopy of trees. They only live to be about 20 years old and are quickly becoming endangered with the growing loss of our rainforests. Vegetarians, the howler monkey eats mostly leaves and the occasional fruit and maggot. Slightly resembling old men, these bearded monkeys are a prime target for meat-eaters, but remain clever and determined in their will to survive.