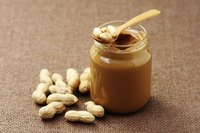 The U.S. Food and Drug Administration requires that anything labeled "peanut butter" be made from ground, shelled and roasted peanuts. The FDA's Center for Food Safety and Applied Nutrition also requires that peanut butter and other foods are "safe, sanitary, wholesome and honestly labeled."
Regulations for Peanut Butter Products
According to the FDA, a peanut butter label must state that it was prepared from peanuts with skins left on and declare all ingredients in the product. Artificial flavorings, artificial sweeteners, chemical preservatives and color additives may not be included in peanut butter. The FDA, however, allows less than 10 percent of the peanut butter to be made up of seasonings and stabilizers, such as partially and fully hydrogenated vegetable oils, as long as they are approved and safe. Peanut oil may also be added or removed during processing, but the fat content cannot exceed 55 percent.
Safety and Health Standards
The FDA oversees U.S. peanut butter supply by ensuring peanut plants comply with food safety standards, with the goal of helping to prevent salmonella poisoning, but some plants have not measured up. After salmonella outbreaks in 2008, 2009 and 2012, the 2014 FDA Food Safety Modernization Act gave the FDA better enforcement tools, such as food testing, access to records of food safety plans and mandatory frequent inspections of food-processing facilities such as peanut plants.