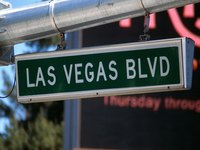 Las Vegas is one of the most popular tourist destinations in the world. Besides world class shows, gambling, and shopping, Las Vegas is home to many nightclubs perfect for people in their 30s and older. Whether you prefer dance music, high-end cocktails, or a more relaxed atmosphere, there's a club in Las Vegas that suits your style.
LAX
LAX in The Luxor Casino is a 26,000-square-foot, two story dance club. The Luxor Hotel and Casino says that LAX is a regular destination for celebrities, A-listers, and the jet-set crowd. Every Wednesday is local industry night, a time for people in their 30s to network with the local population and escape the tourist grind of Vegas newbies. The dress code is strictly enforced, which keeps the tone of this club more mature.
LAX The Luxor Hotel & Casino 3900 Las Vegas Blvd., South Las Vegas, NV 89119 877-386-4658 luxor.com/contact
Rain
The Rain nightclub is located in the Palms Hotel and Casino. It is home to an elevated dance floor, dancing fountains, and pyrotechnic fireball displays. The nightclub features international headliners like Paul Oakenfold every Saturday night, and a star DJ from the 1990s, whose music will certainly appeal to the 30s plus crowd. Skyboxes and cabanas are available by reservation.
Rain The Palms Hotel and Casino 4321 West Flamingo Rd. Las Vegas, NV 89103 702-942-6832
The Mix
The Mix is found on the top floor of "THEhotel" (of the Mandalay Bay Hotel and Casino). Local women always get in free, and tourists will pay a cover charge up to $25. There is no dance floor at the Mix, but the high cover charge, leather sofas, high-end cocktails, and elite dress code keep the tone mature and classy, perfect for the 30s crowd.
The Mix Mandalay Bay Resort and Casino 3950 Las Vegas Blvd., South Las Vegas, NV 89119 877-632-7800 mandalaybay.com/dining/mixlounge.aspx
The Bank
The Bank nightclub is in the Bellagio Hotel and Casino. The crystal stacked foyer and "Cristal Lounge" offer luxurious ambiance. VIP rooms surround the dance floor, and are available for groups up to 75. The Bank is frequently used for corporate events, meaning the 30s plus crowd can network with professionals while enjoying classic European style bottle service.
The Bank The Bellagio 3600 Las Vegas Blvd., South Las Vegas, NV 89119
VooDoo Lounge
The VoodDoo Lounge, located on the top floor of Harrah's Rio Hotel and Casino, is home to award-winning performing bartenders who juggle, leap, and entertain each customer. Sunday night is "Solid Gold Sunday," an 80s themed night, sure to appeal to the 30 plus generation.
VooDoo Lounge Rio Hotel and Casino 3700 West Flamingo Rd. Las Vegas, NV 89013 800-522-4700. riolasvegas.com/casinos/rio/hotel-casino/property-home.shtml