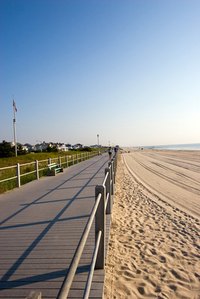 Sports and house parties found in any state across America are still common hang-outs for teenagers in New Jersey, but thanks to the state's miles of shoreline and considerably large and affluent population, there are a variety of options for teenagers to hang out in the state during all seasons.
Seaside Heights
There are miles of beaches and boardwalks in New Jersey, but the boardwalk of Seaside Heights may provide the most entertainment to a teenager. During the day, Seaside offers the beach and related water sports, including boat rentals, and bike, skateboard, body board and surfboard rentals. For those who are not fans of the beach, there are plenty of other activities for teens to enjoy. There are amusement park rides, Jenkinson's Breakwater Beach Waterpark, and several arcades. In the evening, older teens can enjoy one of the several nightclubs which are frequently set up for 18 or older to party, 21 to drink. For the younger teen crowd, there are weekly movies on the beach held for free beginning at dusk and a weekly fireworks display.
Jenkinson's Breakwater Beach Waterpark at Casino Pier 800 Ocean Terrace Seaside Heights, NJ 08751 732-793-6488 casinopiernj.com/breakwaterbeach
Malls
The Garden State has more mall space per square mile than any other state in the country. As of 2009, the state overall had 188.2 million square feet of mall space. Malls aren't only a primary area for teenagers to take part-time jobs, but they are also a great source of entertainment as well. Multiplex movie theaters, with large arcades outside the theater doors and enormous food courts provide various forms of entertainment for teenagers during all seasons. Special events, including new and established pop star performances on mall tours and fashion shows, are held during the weekends to attract teenagers.
Six Flags
Six Flags Great Adventure is open in the spring through October. While many teens will find the variety of rides, including 12 roller coasters, a fun place to hang out for the day, the park also hosts a variety of concerts and live shows throughout the summer. In addition to the actual park, a 350-acre safari housing 1,100 exotic animals is next to the park. For the warmer summer months, Six Flags has Hurricane Harbor, a 45-acre water park with 20 speed slides, right next door. During the fall months, the park hosts an annual Halloween-themed event called Frightfest on the weekends.
Six Flags Great Adventure 1 Six Flags Blvd. Jackson, NJ 08527 732-928-1821 sixflags.com/greatAdventure