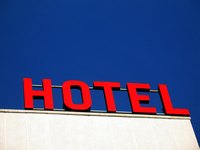 San Francisco, famous for its arts, culture and hilly streets, attracts tourists from around the world, but the city also has a reputation for being extremely expensive. Historic hotels on Bush St. offer affordable rates for visitors on a budget. And a boutique hotel on Bush St. offers an unusual experience for guests who decide to splurge.
Hotel Mayflower
Travelers can stay at the historic Hotel Mayflower on Bush St. in San Francisco, where all rooms have microwaves, refrigerators and en suite bathrooms. The six-story, 102-room hotel opened in 1929, and a news story from the time posted on the hotel's website from the San Francisco Chronicle celebrated its modernity. Rooms come with one or two double beds, or you can upgrade to a deluxe room with a queen bed. In addition to kitchenettes, rooms also have free wireless Internet and satellite television.
The Hotel Mayflower 975 Bush St. San Francisco, CA 94109 415-673-7010 sfmayflowerhotel.com
Grant Hotel
At the historic Grant Hotel, 76 affordable rooms come with desks and cable television. Select rooms offer refrigerators, and the hotel provides hair dryers on request. Guests also receive a free breakfast of coffee, tea and muffins. In the lobby, you can check your e-mail on free wireless Internet. You can choose a room with one queen bed, or opt for one or two full-sized beds. The hotel discounts parking in a nearby garage for guests. Some rooms offer handicapped accessibility.
The Grant Hotel 753 Bush St. San Francisco, CA 94108 415-421-7540 granthotelsfo.net
Hotel Des Arts
Select rooms at the Hotel Des Arts have murals splashed across their walls by emerging local artists. Artists like Punkadelik paint street-style works with bold colors and graffittiesque lines. Girly girls might like Sugarluxe's feminine but sexy diva paintings. The hotel also offers traditional rooms and discounts for weekly rates. Guests receive free breakfast. All rooms include satellite television with movie channels, and select rooms offer microwaves and refrigerators. Continuing the hotel's commitment to art, the property also hosts a gallery and occasional events with music and drinks.
Hotel Des Arts 447 Bush St. San Francisco, CA 94108 415-956-3232 sfhoteldesarts.com