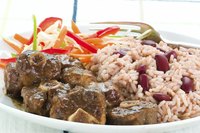 Filled with bright colors and vibrant taste, Caribbean food is as diverse as the many cultures that influence the area, and is likely one of the world's original fusion cuisines. From native Arawak and Carib tribes to Indian, African and European influences, the cuisine incorporates staples that are both native to the islands as well as those brought from afar.
Versatile Cassava
While you may be familiar with cassava as the main ingredient of tapioca pudding, it is also one of the most versatile staples of the Caribbean. The root is often consumed baked, boiled or fried in long strips. It is often served up in bread or a sweet syrup with a bitter edge known as casareep. Cassava also goes by the names manioc and yucca and provides more than twice the calories of potatoes along with B vitamins, protein and trace minerals. Some people with latex allergies may be allergic to the root, and cyanide can be produced when incorrectly processed in the field.
The Many Faces of Rice
Brought to the Caribbean by Europeans in the late 15th century, the grain is a common accompaniment to any Caribbean meal. Yellow rice is common in the Caribbean, colored by the addition of saffron. Rice is commonly served mixed with chopped vegetables including calabaza squash, onions, peppers and peas. You'll find several other culinary influences served up in the Caribbean's staple rice dishes. Hot peppers feature in Creole-style rice, and Spanish paella contains a mixture of various grilled meats and seafood. Soupy Puerto Rican asopao is rich with ham, chicken, tomatoes, peppers, capers, olives and peas.
Lentils and Other Legumes
Legumes such as lentils, black-eyed peas, cow peas and red peas came to the Caribbean before the time of Columbus. Legumes are commonly called peas in the Caribbean, so when ordering "rice and peas," you'll see lentils or beans on the plate, not little green, round vegetables. Indian influence is evident in the islands' curried lentil dishes, and you'll often find lentils cooked up with sweet potatoes, pumpkin, tomatoes or carrots. Spicy peppers often flavor the legume dishes, and some dishes add coconut milk for extra richness.
Meals With Meats
Staple meats in the Caribbean include fish, pork, chicken and goat. Jerked meat slow cooked in a spicy sauce is the most well-known method of preparing meat in the Caribbean. The method descends from the Arawak's slow-cooking method where meat was cooked directly over glowing coals to help preserve it. Other popular methods include curries and stews. A flatbread known as roti has meat inside, somewhat like a burrito. While cooking methods are similar, you'll find seasonings vary by area.