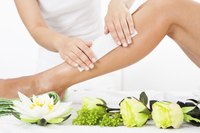 Waxing, where hot wax is applied to the skin and stripped away, taking the hair with it, is one of the most common methods of hair removal. It is often used to remove hair on the bikini line, the legs, the underarms, the eyebrows and the upper lip. Though it is painful, it gets easier over time, since the hairs grow back thinner.
What to Wax at Home
Though beauty salons and spas offer wax treatments, they can be pricey. Thankfully, there are myriad wax kits available at the drugstore for a much lower price. You can wax your legs, eyebrows, armpits and upper lip at home, but it's best that you leave your bikini line to the pros, as it is difficult to reach that area.
At-Home Wax Prep
Whether you wax at home or at the spa, avoid waxing the week before and during your menstrual period. Your skin tends to be more sensitive around this time. Also, avoid waxing if you have a sunburn or if you are using retinoids, as these can make skin more sensitive. Taking a painkiller such as Advil before waxing and applying tooth-numbing cream to the area you want to wax help make you less sensitive to pain.
At-Home Wax Method
Wax when there is at least ¼ inch of hair so that there is hair to be pulled out. Apply the wax from the at-home kit to the area where you want to remove hair. Pull the wax against the grain to remove the hair from the root.
After-Wax Tips
After waxing, apply a soothing gel to help avoid ingrown hairs. It's best to avoid extreme heat or exercise for 24 hours after waxing. This helps prevent irritation.