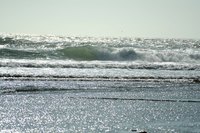 Private beach clubs in and near Wrightsville Beach, North Carolina, offer special amenities such as boat storage and private parties for their members. Often membership policies are selective and are contingent on home location and or social status. These beach clubs give locals the chance to enjoy the beaches during all seasons while avoiding over crowding due to an influx of tourists.
Hanover Seaside Club
The Hanover Seaside Club was founded by the Gieschen family in 1898. The club's membership policies state that Wrightsville Beach citizens are the only people who are eligible for acceptance into the club. The club is known for its conservative and restrictive member acceptance policies established by the board, which retains current ancestors of the original founding family. The clubhouse dinner menu varies nightly and there are annual holiday festivities such as the July 4th fireworks display. This club house and accompanying facilities are located directly off of the beach.
Hanover Seaside Club 601 South Lumina Avenue Wrightsville Beach, NC 28480 910-256-2726
Inlet Watch Yacht Club
Located less than 20 miles from Wrightsville Beach, the Inlet Yacht Club is situated between Pleasure Island and Masonboro Island with a view of both. The club boasts a private pool with heated bathhouses and a pig roaster. A full-service marina is on site, and boats can be both rented and stored by club members. The clubhouse is used for parties, celebrations and dinners all year long. A board of directors oversees the club and is in charge of membership acceptance.
Inlet Watch Yacht Club 801 Paoli Court Wilmington, NC 28409 910-392-7106 inletwatch.com
Surf Club
The Surf Club was originally intended to accommodate local citizens during the summer season when vacationers flock to the area and overrun beaches. The club gained notoriety and prestige, and is often at member capacity. The only way to become a member is to have a current member propose your induction. A club board carefully reviews applications and the process takes an upside of two years before a final vote is made.
Guests may attend the club if they are invited and accompanied by an existing member. Most members are local socialites and well-known professionals. The club hosts members-only activities such as dinners and parties. Members may also celebrate special occasions from birthdays to weddings at this upscale establishment with a coveted beach location.
Surf Club 1 Mallard Street Wrightsville Beach, NC 28480 910-256-2496 surfclubnc.com