ParaGard is an intrauterine device, or IUD, made of copper and plastic. Manufactured by Duramed Pharmaceuticals, Inc., this contraceptive device remains effective for up to ten years, making it one of the longest-lasting contraceptives on the market.
Mild side effects—such as heavier menstrual cycles—are common after the placement of ParaGard. However, serious complications may also occur.
Pelvic Inflammatory Disease
According to the Centers for Disease Control and Prevention, IUD insertion is associated with a slightly elevated risk of pelvic inflammatory disease, or PID. This risk is due to the potential for introducing microorganisms into the reproductive organs during insertion. The risk is greater if you suffer from a sexually transmitted disease like chlamydia or gonorrhea. For this reason, your doctor will want to test and treat you for these conditions before placing the ParaGard IUD.
Abdominal pains, painful intercourse, abnormal bleeding, increased vaginal discharge, and back pain are common symptoms of PID. If the disease progresses without treatment, vomiting, fever and shock can occur.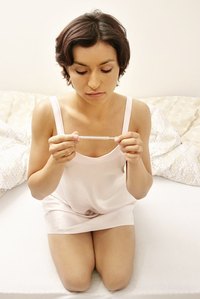 Pregnancy
Though rare, intrauterine and ectopic pregnancies can occur while using ParaGard. An intrauterine pregnancy is a normal pregnancy, in which the fetus develops within the uterus. However, if you become pregnant while using ParaGard, the fetus can spontaneously abort. You may also develop sepsis.
An ectopic pregnancy develops outside of the uterus. This form of pregnancy can be dangerous, and requires prompt medical attention.

Embedment and Expulsion
The ParaGard IUD can become embedded in your uterus, making normal removal of the device impossible. If this happens, surgical removal is necessary.
The IUD can also partially or completely fall out of your uterus. Expulsion of the IUD typically occurs in the first few months after insertion. If you're unaware that the IUD has fallen out, pregnancy can occur.
Perforation
In rare cases, placement of the ParaGard IUD may perforate your uterus or cervix. If this occurs, you will feel a sharp pain immediately after placement. You must then have the IUD removed, and use another form of birth control to allow the perforation to heal. After your next menstrual cycle, you can try to use the ParaGard device again.