Brown and turquoise are a popular color combination for weddings and easy colors to incorporate into the decorations, clothing and overall motif of the day. You can choose to use both colors equally or use one more predominately than the other, using the secondary color for unique touches.
(Türkis image by bammobil from Fotolia.com)
One of the easiest places to incorporate your turquoise and brown wedding colors is in the attendants' attire. Put the bridesmaids in chocolate brown dresses, accentuated with turquoise ribbons around the waist, turquoise tulle slips or turquoise shoes. You can incorporate one of the colors into your own dress by using ribbon or by sporting a beautiful turquoise or aquamarine necklace and earrings. Make the groomsmen's attire match the bridesmaids. The groom could also wear a turquoise vest and tie to stand out from the rest and reflect your color theme.
Lalouetto/iStock/Getty Images
Use bright flowers to highlight your turquoise colors. Choose bright blue hydrangeas, unique Tweedia or magical cornflowers. You can have many white flowers dyed blue or turquoise. Tie your flowers with rich chocolate ribbon and cover with turquoise lace or beads.
Rodrusoleg/iStock/Getty Images
Another great place to incorporate your colors is in the cake. You can choose a cake topped with turquoise fondant and accentuated by brown chocolate roses. Consider a cake with chocolate icing decorated with turquoise ribbon and flowers. Another idea: chocolate cupcakes with turquoise icing or éclairs with colored icing.
belchonock/iStock/Getty Images
Use chocolate brown linens with turquoise overlays and seat cushions. You could also keep white linens with turquoise and brown place mats and napkins. Use your colors in your centerpieces as well. For a night-time wedding try floating candles in shallow bowls of water. For a unique living centerpiece, get clear vases and fill them with brown marbles at the bottom and put brightly colored turquoise beta fish into the vases. You can give these as gifts to the guests.
If you want to brighten the space, drape long pieces of turquoise fabric along the ceilings. You can do the same with brown fabric to create an intimate, cozy atmosphere. A quick way to incorporate your colors is to hang colored paper lanterns from the ceiling.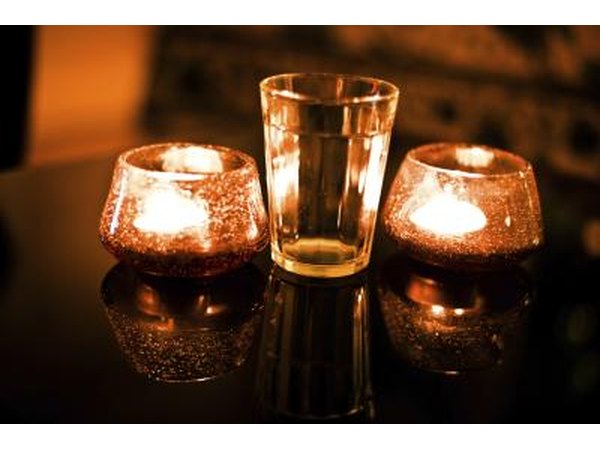 Xerv_II/iStock/Getty Images
Consider giving chocolates to your guests. This can be in the form of truffles, small bags of candies or chocolate-covered espresso beans. Choose clear bags or small boxes and tie them with turquoise ribbons. For something a little different, try giving bottles of blue soda as gifts, tied off with brown ribbons.
Jupiterimages/Stockbyte/Getty Images
Promoted By Zergnet