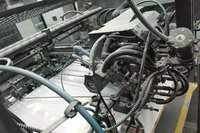 Sales taxes are levied on the sale of goods to consumers and other businesses. Printing corporations also collect sales taxes from customers and pay the appropriate percentage to state tax agencies. Sales taxes are only on goods, not services such as labor or professional services such as accountants or lawyers. Only goods are taxed and states have a cap on total sales tax paid on transactions. As such , many printing corporations transfer as much of the final sale price to labor and services to reduce the overall sales tax total.
Paper
Printing requires paper or a similar substrate (the material being printed on). The paper supplier does not charge sales taxes to the printing corporation because goods purchased for resale are not taxed. The printing corporation, however, must include the paper value when calculating the sales tax total.
In some states, printing corporations can legally give the paper to the customer free and collect no sales tax. The profit is generated by charging higher prices for press time, prepress, typesetting and post-press bindery labor, all nontaxable. This practice, however, is discouraged in most states because eliminating sales taxes on the raw materials for producing goods results in little or no sales tax revenue.
Labor
Printing involves considerable labor even if the job is relatively small and produced by only one person. Printing corporations can effectively reduce the sales tax amount by transferring much of the work to labor costs. Printing can also exclude much of the make-work materials needed for printing production: printing plates, inks, solvents, bindery materials and prepress plate negative film.
Labor charges for printing are calculated as machine time or how long the job is at the typesetter's computer, running through the printing press, going through the folding machine or the paper cutter. Labor charges also are added for manually collating and binding work. All these charges are not subject to sales tax and are carefully calculated for accurate tax records.
Tax Collection
As with all businesses, the printing corporation collects the sales tax along with the final purchase amount. The sales tax is calculated as a percentage of only the taxable goods, not the services for producing the work. These two sets of amounts are accurately recorded on the invoice for the customer and the tax agency's review.
On a regular basis (weekly, monthly or quarterly depending on the state), the printing corporation sends in a form declaring total sales, total taxable sales and the corresponding collected sales tax. The tax revenue is forwarded to the tax agency.