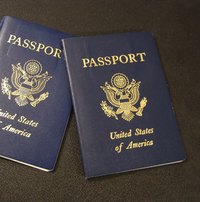 U.S. citizens are required to present a passport for international travel outside of the U.S. and its territories. Passports may take 10 weeks or longer to process, so apply well in advance of an overseas trip. The U.S. Department of State recommends paying an additional fee to expedite the passport if it is needed in less than 10 weeks.
Form DS-11 Presented in Person
First-time applicants for a U.S. passport must present a completed form DS-11 in person at either a passport agency or an acceptance facility. Do not sign the application in advance; it must be signed at the facility before the acceptance agent. To locate the closest facility or agency, use the link on the U.S. State Department's website in the reference section of this article. Many post offices fill this role. A parent or guardian must accompany anyone under the age of 18 and present identification. Minors under 18 must also apply in person.
Proof of U.S. Citizenship
Applicants must present proof of U.S. citizenship to obtain a passport. Acceptable documents include a certified birth certificate with a registrar's seal. The date the certificate was filed must be within a year of the date of birth. Applicants born overseas may present a certification of birth or consular officer's report of birth abroad. Naturalized citizens should present a certificate of naturalization or a certificate of citizenship. The documents will be returned to you with the passport.
Identification
Applicants and parents or guardians must present photo identification when applying for a U.S. passport. A valid driver's license, naturalization certificate or a military ID is acceptable. A current government ID issued at the city, state or federal level is also acceptable.
Passport Photos
Applicants for a U.S. passport must present two identical, high quality color photos taken within the last six months. The full face of the applicant must be shown with no headgear that obscures the hairline. The applicant should be wearing normal street attire. The photos must measure 2 inches by 2 inches. They must be printed on thin, photo quality paper. The face in the photo must be at least 1 inch in length but no bigger than 1-3/8 inches. The background should be white or off-white. These photos can be obtained at many discount stores, drugstores or photo studios. Do not use vending machine photos.
Passport Fee
The 2010 fee for a passport for adults age 16 and older is $110 plus a $25 execution fee for a total of $135. The fee for minors under age 16 is $80 plus a $25 execution fee. To have the passport sent by overnight mail, which is highly recommended for faster processing, add another $14.96. Payment may be made by credit card (VISA, MasterCard, American Express, Discover) or debit card. Checks, including personal, certified, cashiers and traveler's checks may also be used. Money orders made out to the Department of State are also acceptable. At certain acceptance facilities, cash may be accepted. The $25 execution fee must be paid separately at an acceptance facility.