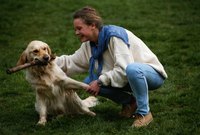 Mites under your pet's skin cause canine scabies, or sarcoptic mange. The itchiness and discomfort are endless for your pooch. At the first signs of mange, take your furry friend to the veterinarian, because the disease will progress -- and humans can contract scabies from dogs.
Scabies Mites
Female parasitic mites burrow under the skin of a dog and make tunnels to lay their eggs. Females lay up to three eggs each day in the burrows for about two to three weeks. Eggs hatch between three and five days after they are laid into larvae, then molt to nymph stage and become adults in a life cycle of two to three weeks. Adults mate on the exterior of the skin, and then females burrow under the dog's skin to start another cycle.
Initial Signs of Scabies
The first signs of scabies that you notice on your dog are intense itching and scratching on red skin. The skin irritation comes from the mites' bodies, fecal matter and saliva under your pet's skin. Restlessness and frantic itching are signs that appear about a week after contracting scabies. Hair loss in the affected areas results from repeated scratching. The most common areas for scabies is on a dog's face, legs, elbows and ears, though it can spread quickly to encompass the entire body.
Scabies Complications
Mange-affected skin areas become thick and wrinkled if treatment is not initiated quickly. An odor associated with scabies is the result of serum from the mites on the skin. Secondary infections from scratching the skin furiously can make your pet very sick. Within a few months, scabies can affect your pet's digestive system and other bodily functions, and it can result in death.
Veterinary Treatment
Make an appointment with your veterinarian at the first signs of itching and discomfort in your dog. He will likely do a skin scraping to examine under a microscope. Your dog will be given oral medication, topical medication, an injection, shampoo and dip, or a combination of these. Your pooch may also receive itching medication and antibiotics to cure a secondary infection. Your veterinarian will need to do follow up skin scrapings to determine when the mites are obliterated, usually within a month.