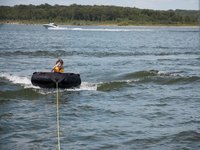 Missouri's big cities, Kansas City and St. Louis, rise on the state's eastern and western borders, framing thousands of acres of parks, farmland and national forests. Top-rated attractions include the homes of presidents and authors, Civil War sites and art museums, but if you're traveling with kids, they might find some of them less than exciting. A weekend family vacation might include lazy days swimming, an immersion in kid-friendly science or a thrilling plunge down a water slide.
Springfield's Kid-Friendly Attractions
Springfield, about 160 miles southeast of Kansas City, is home to the largest and oldest Bass Pro Shops store. The store has morning and late afternoon fish-feeding demonstrations and a museum housing outlaw Jesse James' pistol. If you're in the area in spring or fall, check out the night sky exhibitions at Baker Observatory. The 1984 Arcade has vintage arcade games and pinball machines. Spend a few hours at the Dickerson Park Zoo or the Discovery Center of Springfield, a hands-on science museum. Camping cabins at the Springfield/Route 66 KOA are open year-round.
Outdoors at Harry S. Truman Lake
For a family weekend of swimming, boating and hiking, book a vacation rental or campsite at the 55,600-acre Harry S. Truman Lake. Begin your adventure at the Visitor Center on Kaysinger Bluff overlooking the dam that formed the lake. A life-sized painting of the Missouri Leviathan, a fictional creature, dominates the rotunda. Marinas around the lake, including the one at Harry S. Truman Lake State Park, rent boats and sell bait and tackle. A 400-acre area is open to dirt bikes and ATVs. The Lost Valley Fish Hatchery, the largest in the state, has a 12,700-gallon aquarium.
Everything in One Place in Kansas City
Visitors can easily spend an entire weekend exploring Kansas City's Crown Center. The complex houses theaters, the Sea Life Aquarium and the Legoland Discovery Center, an attraction that's closed to adults unless they're accompanied by a child. During winter, the Crown Center Ice Terrace opens to skaters. Second-story skyways connect the shopping area to hotels and to Union Station, the city's refurbished train station. Attractions at the station include a science museum, 3-D movies and a planetarium. The smoke free Westin Kansas City at Crown Center has a heated pool and in-room video games.
A Weekend at a Water Park
Branson, a small city showcasing big-name performers, is surrounded by huge lakes and the gentle peaks of the Ozark Mountains. Grand Country Resort has Kid's Clubhouse rooms for families with younger children. Parents sleep in a king- or queen-sized bed while kids share a sectioned-off bunkhouse. A lazy river, interactive treehouse and jetted tubs for adults and children are the highlights of the resort's indoor water park. Older children might prefer the rides at the White Water attraction at Silver Dollar City. The KaPau Plummet begins with a steep drop and ends 245 feet later.