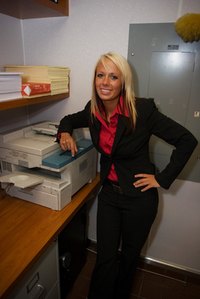 Digital copiers can do much more than simply producing copies. Digital copiers have special or advanced features that allow the device to serve as a truly invaluable piece of office equipment. Beyond the ability to produce copies in multiple sets, stapled or saddle-stitched, the special features of a photocopier can not only aid in cost-saving, but also in increasing the professional look of distributed paper communications.
Image Combination
Accessed by pressing either the special or additional function button on the main panel of a copier, image combination allows you to combine two, four or eight images onto one sheet of paper. This feature can save paper and can help lower the amount of paper that needs to be stored. Any copy that was created using Image Combination can be reversed using Image Separation. For example, if Image Combination was used to copy four images onto one side of a piece of paper, Image Separation can be used to take that one image and create four unique copies.
Shift
Shift allows for the image to be copied to be moved a specified amount. This is useful when making copies that will later be stored in a three-ring binder. Being able to shift the copied image away from the paper's edge will ensure that, when punched, the text or image on the paper is fully readable.
Booklets
Several digital copiers can automatically create a booklet from four or more scanned originals. The booklet mode tells the copier to scan in the original documents, then arrange them into booklet format. Placing four pages into the document feeder and using the booklet mode will produce two doubled-sided copies that can then be folded and distributed as a newsletter.
Image Repeat
Image Repeat takes an image from an original, then repeats that image a certain number of times onto a copy. Some businesses use Image Repeat to produce a copy of their logo numerous times on a single sheet of paper.