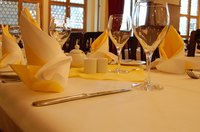 The Murat Theatre at Old National Centre is located on North New Jersey Street in downtown Indianapolis. The multi-purpose facility is home to both a 2,500 seat theater and 1,800 seat concert hall. In addition to a rotating schedule of theatrical performances, the center also hosts comedians and nationally renowned musical acts. Several restaurants are located in close proximity to Old National Centre.
Rathskeller Restaurant
Located directly across the street from National Centre, the Rathskellar offers traditional German cuisine and gourmet style pub food. Choose from appetizers like bratwurst, bockwurst and kielbasa in addition to stuffed mushrooms, spinach artichoke dip and baked brie. Entrees range from grilled lemon pepper chicken, hardwood smoked pork chops, and grilled filet mignon with sauteed mushrooms. The restaurant also offers several seafood options, including grilled yellow fin tuna, baked salmon and creole snapper.
Rathskeller Restaurant 401 E. Michigan Street Indianapolis, IN 46204 866-967-1095 rathskeller.com
Bazbeaux
Bazbeaux's Pizza is located right down the street from the Murat Theater. Established in 1986, the restaurant offers a vast array of specialty pizza recipes available on thick or thin homemade wheat and white crust. Guests can create their own pizza with exotic toppings such as albacore tuna, crab, capers, black bean dip, pea pods and shrimp. In addition to a rotating schedule of daily lunch special options, the restaurant also features a variety of salads and baguette sandwiches.
Bazbeaux Pizzas 334 Massachusetts Ave. Indianapolis, IN 46204 317-636-7662 bazbeaux.com
Aesop's Tables
Aesop's Tables is a Mediterranean style cafe that serves lunch and dinner daily and is located within walking distance to the Murat Theater. Starter plates range from a Middle Eastern appetizer with hummus and tabouli salad to the Greek appetizer place with feta and stuffed grape leaves. A house-made lobster bisque is on the menu daily. Choose from entrees like shrimp scorpio with feta and tomato, roasted lamb shank in wine sauce and lamb stew with roasted potatoes. A variety of vegetarian entrees are also served.
Aesop's Tables 600 Massachusetts Ave. Indianapolis, IN 46204 317-631-0055 aesopstables.biz