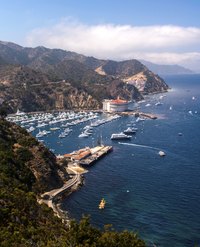 While San Diego's 70 miles of coastline invites visitors to simply unwind under its sunny blue skies, Catalina Island promotes the idea of relaxed island living. Its largest city, the quaint harbor town of Avalon, is dotted with cozy boutique hotels, sleepy beachside cafes and narrow streets that are only wide enough to accommodate the golf carts that serve as the island's main form of transportation. In fact, you won't even find a traffic signal on Catalina. Should you require a bit more action, the island and its surrounding waters are a haven for snorkeling, kayaking, scuba diving and glass-bottom boat rides. But keep in mind, that, although just 86 miles apart, there are only a handful of ways to reach Catalina from San Diego.
The Big Boys
Major cruise lines, such as Carnival, Princess Cruises and Celebrity Cruises, make stops at Catalina Island, but their schedules vary drastically from season to season. Catalina is rarely the final disembarkation port for a cruise, but instead remains a stop along the way to destinations such as Long Beach or San Francisco. At time of publication, Royal Caribbean was the only line with a cruise departing from San Diego with a stop in Catalina.
Keeping It Old School
Set in the heart of downtown, the Maritime Museum of San Diego provides unique opportunities to travel to Catalina upon the historic Californian, the Golden State's official tall ship. Once a year, the lavish ship, a replica of the 1847 Revenue Cutter C.W. Lawrence, makes a week-long trip to the Channel Islands. Although you'll be traveling with an experienced crew, you'll also receive sailing lessons during the excursion and will be expected to take your turn standing watch and hauling and rigging lines. The ship will anchor off the coast of Catalina for its first stop, where you'll spend your days kayaking, snorkeling and exploring the island on foot before sailing on to Santa Barbara and Santa Rosa Islands.
Private Party
Be part of a flotilla on a four-day journey to Catalina, an excursion planned and hosted by the San Diego-based company, Seaforth Boat Rentals. Join the group by securing a spot on a 35-foot catamaran, or, if you're ASA 103-qualified, by chartering a yacht through the rental company. You can also travel to Catalina without the aid of a flotilla as seasoned sailors can rent sailboats and yachts throughout the year. Boats are available and launched from the company's five dock locations throughout San Diego, including Mission Bay, Coronado and downtown.
Fast Ferries
Make the one-hour drive north from San Diego to Dana Point where you can catch the Catalina Express, a 90-minute ferry ride that operates round trip daily and year-round. The high-speed ferry is the most common means for Southern California residents and tourists to reach the island, transporting more than a million visitors annually. Soak up the ocean views from the open-air upper deck or, as an added perk, book a ticket with access to the private lounge, where you can grab a free drink in an elegant setting.