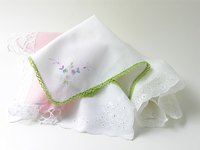 A handkerchief is the perfect accessory for someone looking to spice up an outfit that would otherwise be plain and dull. Handkerchiefs are available in so many colors, styles and sizes that it is easy to find one you like, plus it is a cheap way to update an old outfit and give it a fresh look. By wearing a handkerchief in some of the many different ways they can be tied, you can even make the same handkerchief look interesting and new.
Around Your Neck
The classic way to wear a handkerchief, tying one of these around your neck can be a beautiful replacement for a necklace. This look is subtle and elegant and works best with a loose, lightly patterned scarf that coordinates with your outfit. If the handkerchief is patterned, it is best to stick with plain clothes, while if your shirt has a design, try a plain handkerchief that brings out the colors of the shirt.
Tying a handkerchief around your neck is generally more popular among the older crowd. While it often makes an older woman look sophisticated and put-together, it can make a younger woman look older than her years and fuddy-duddy, so if you are under 40, it might be best to try a different style.
On Your Head
This is one of the latest and trendiest ways to sport a handkerchief. The fashion-conscious might have noticed this look in clothing advertisements and on models in fashion magazines and it is surprisingly easy for anyone to pull off. The most common way to tie a handkerchief around your head is to start by folding a square scarf in half at the corners to create a triangle. Then, take the middle of the straight side of the triangle and line it up in the middle of your forehead. Tie the corners together tightly behind your head.
This style looks cute with your hair worn down and flowing underneath the handkerchief and is a cool way to keep your hair out of your face on a hot day. It works well for a beach outing or other summertime jaunt and looks best on young women or teenagers.
As a Belt
If you are looking to show off a slender waist, tying a handkerchief around your middle to highlight your midsection is a creative way to do it. You can either fold up the handkerchief for a narrow belt or keep it spread for a wide one, and tie it either on the side or in the back.
Since this kind of look is splashy, it works well if the handkerchief is loud and patterned too, with a solid colored shirt underneath.
As a Toga
This use of a handkerchief is only for the really daring woman because it requires faith that the scarf will stay on your body the whole time you are wearing it. You will need an extra-large size handkerchief and you use this to create an off-the-shoulder shirt that ties around your neck and on the opposite side of your body, by your waist. You might want to experiment with different ways of folding and tying it to see which way works best for your body type.
Wearing a handkerchief like this is best for a very hot day because it makes a rather thin and flimsy shirt and is a nice touch for a pool party or other outdoor event. This look can be worn by anyone who feels brave enough to pull it off!
In Your Hair
Because of the wide variety of handkerchief patterns, these accessories can make a beautiful and unique headband. You can create this look by simply folding the handkerchief into a thin strip and placing it across your hair. Then tie the bottom in a knot underneath your hair for an original headband that keeps your hair neatly in place.
This type of look looks best on the younger crowd, but it can work well with any length hair, from very short and choppy to long, flowing locks.