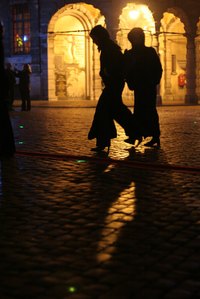 Gazi was once home to Athens' natural gas factory, so the district was less than vibrant until the factory was converted into a museum and cultural center now known as the Technopolis. The new Gazi is the premiere nightlife spot of Athens. It's a center for art and culture and home to the best bars and clubs in the city. Excitement buzzes wherever you turn. Even when the bars fill up or shut down, the party continues on the street where young Athenians mingle with drinks in hand.
Bios
This hip multipurpose space boasts an ever-changing calendar featuring live performances, art exhibitions and experimental film screenings. Bios also functions as a cafe, bar and club, catering to the rock and indie scene in Athens.
Bios 84 Pireos Athens, Greece 011-30-210-342-5335 bios.gr
Brothel
Brothel embraces the ambiance that its namesake suggests: dark, comfortable and cabaret-chic. Whet your appetite with hearty dishes while you sip on cocktails and reflect on your possible past life as the provocateur of Mediterranean culture.
Brothel 33 Orfeos and Dekeleion Athens, Greece 011-30-210-347-0505
Gazaki
Gazaki is the oldest bar in Gazi, and it has adapted well to the burgeoning nightlife in the district. Good drinks, a rooftop terrace and a friendly crowd make Gazaki a solid destination for any night of the week.
Gazaki 31 Triptopolemou Athens, Greece 011-30-210-346-0901
Gazarte
Gazarte's three stories hold weekly art exhibitions, a well-received restaurant, and a rooftop bar with grand views of the city. Each floor doubles as a stylish space suitable for performances, cultural events and presentations.
Gazarte 32-34 Voutadon Athens, Greece 011-30-210-346-0347 gazarte.gr
Hoxton
Hoxton is a popular late night bar that attracts a hip crowd with ultra-cool artistic decor and a DJ with a serious new wave addiction.
Hoxton 42 Voutadon St. Athens, Greece 011-30-210-341-3395
Tapas Bar
Tapas Bar is known for being incredibly packed on weekends, and for good reason. The bar specializes in margaritas, mojitos and rum, accompanied by free finger food. Tapas attracts a young crowd and blasts Latin music; you may not have any deep conversations, but you will have a good time.
Tapas Bar 44 Triptopolemou Athens, Greece 011-30-210-347-1844
Nipiagogio
Nipiagogio follows (or possibly leads) the trend in clubs converted from once-institutions. This former kindergarten is no longer a place for nap time; on Saturdays the classrooms stay open until 6 a.m.
Nipiagogio Elasidon and 8 Kleanthous Athens, Greece 011-30-210-345-8534
Villa Milioni
Villa Milioni is a popular club with multiple rooms, a courtyard and restaurant. Possibly the best part: a low to no cover charge.
Villa Milioni Andronikou 11, Gazi Athens, Greece 011-30-210-342-3606