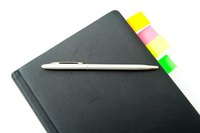 Successfully managing, buying or selling a company requires research and a continuing assessment of many key elements of the business. Several successful businesses have developed due diligence checklists to ensure that their company's purposes, organization and other important information are well-organized and accounted for.
Financial Information
The checklist should include past and projected financial information, including annual and quarterly financial information from the past 3 years, projected revenue and economic assumptions for the next 3 years, a list of current shares and stockholders, accounting policies and tax positions.
Products
Information about the company's products should include a description of the company's product offerings, including market share, major customers and profitability.
Customers
The due diligence checklist should include the top customers, strategic partnerships, top suppliers, a description of severed relationships and revenue information.
Competition
A company should write out an assessment of its major competitors, including the competitors' pricing, technology and distribution as well as the competitors' market position, including strengths and weaknesses.
Marketing, Sales and Distribution
The checklist should detail a firm's marketing strategy, including distribution channels, marketing opportunities and risks and marketing programs; major customers and their relationship trends and prospects for future growth; guidelines for forming new businesses; and a productivity model, including a plan for new hires, compensation and sales cycle.
Research and Development
The research and development section should detail the organization's strategy, key personnel and major activities and the cost to develop new products, a time line for development, necessary technology and risks of implementation.
Management and Personnel
The management and personnel portion of the checklist should highlight the personnel turnover over the last 2 years, benefit plans for staff, compensation for staff, stock plans, biographical information of senior staff members, size of staff by function and location and an organizational chart.
Legal and Related Matters
In this section, the company should list any pending lawsuits against the company, lawsuits initiated by the company, potential liabilities, a list of safety issues and liabilities, and a list of the company's trademarks and copyrights.
Technology
In this section, the company should detail any patents it holds and any research it has conducted that gives it a sustainable advantage over competitors.
Information Gathering
The company should list the resources it has at hand that can enable it to make new developments. These resources can include databases, industry associations, peers and mentors.