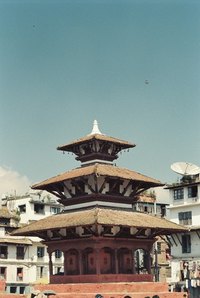 Nepal is a cradle of cultural and religious gems nestled in the heights of Himalaya, famous around the world for trekking and mystical places. A journey to Nepal can't be complete without visiting some of the most important historical monuments that define this sacred land. The capital Kathmandu is home to an exquisite artistic and architectural heritage, many of the historic monuments of Nepal being located in this area.
Narayanhiti Royal Palace
The Shah Dynasty constructed the Narayanhiti Royal Palace in Kathmandu in the 18th century and it served as a residence for the Nepalese royal family. An earthquake destroyed the palace in 1934. A new palace in the form of a Pagoda took its place in 1970; it was built on an area of 74 acres and was fully secured with gate-controlled walls. After Nepal became a republic in 2008, the Palace was converted into a museum and opened to the public in 2009. Visitors can now explore an area of 40,000 square feet, packed with old furniture and art artifacts. The throne and the royal crown are not open to the public due to security reasons.
Bhaktapur Durbar Square
Durbar Square is a palace complex situated in the heart of the Bhaktapur, built during the ninth to the 18th century by the Malla Kings. The main points of interest are the Golden Gate, the Lion Gate and the statues of the Malla Kings on stone monoliths. In the 15th century, King Yakshya Malla built the famous Palace of Fifty-Five Windows, which was redesigned by King Bhupatindra Malla two centuries later. The complex has its own art gallery featuring ancient paintings belonging to the Buddhist and Hindu traditions from different periods.
Swayambhu Temple
One of the most well-known temples in Kathmandu, the Swayambhu Temple is currently a place of adoration for monks, Tibetan priests, Vajrayana Buddhists and Newar Nuns, worshipers of Swayambhu. The legend says that the hill where the Swayambhu lies was initially a magic lotus, worshiped by saints, divinities and pilgrims. Swayambhu means "self created" or "self-existent". The temple has a huge Buddha statue, which is the main attraction, and various other Buddhist artworks, butter lamps and wheels for prayers. About 365 stairs offer access to the temple and the entrance features two lion statues, a vajra (ritual object) and a statue of Lord Buddha. The temple also is known as the Monkey Temple, because monkeys use to come around the temple after the worshipers have left the place.