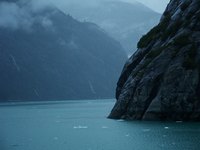 Travelers visiting the state of Alaska may face harsh conditions, including dangerous wildlife and severe weather. While most tourists, particularly cruise ship passengers, arrive between early May and late September, Alaska welcomes visitors throughout the year. Packing particular items however can help battle any potential problems the rugged state may throw at vacationers.
Bug Spray
Alaska features a large number of mosquitoes, particularly during the warm summer months, but bug spray or insect repellent can help ward off bites. Mosquito nets can keep the bugs at bay as well, especially while camping or sleeping in rustic lodges.
Rain Gear
Hard rains and cold weather hit Alaska throughout the year. Although heavy and warm, pea coats don't dry easily and can prove cumbersome to pack. Conversely, water-proof jackets keep travelers dry and typically fit into tight quarters.
Hiking Boots
The Alaskan wilderness offers scores of hiking trails, ranging from easy to difficult. Hiking boots can come in handy when deciding to embark on a variety of hikes. Comfy shoes of any kind, such as sneakers, may help travelers better explore towns on foot as well.
Swimsuit
Alaska offers warm temperatures during the summer months, as well as a host of fresh water lakes and rivers, ideal for swimming. Most major cruise lines which travel to Alaska provide multiple swimming pools aboard their vessels as well.
Extra Socks
Travelers should consider carrying an extra pair of socks as wet feet can cause discomfort during a vacation, leading to such conditions as athlete's foot and blisters. Heavy wool socks can keep feet warm as well.
Whistle
Travelers who plan on hiking should consider carrying a whistle which can alert searchers of your whereabouts should you get lost while on a hike. Whistles blown intermittently while hiking may also alert wildlife of your presence. Some animals, particularly bears, may attack when taken by surprise.
Motion Sickness Pills
The waters catering to Alaska-bound cruise ships, whale watching expeditions or glacier viewing excursions can produce large swells. Travelers subject to motion sickness may wish to pack pills to help combat potential nausea.
Synthetic Pants
Synthetic pants, such as track pants, stay dry more easily than a pair of heavy jeans. Some track pants contain multiple pockets as well, a bonus for travelers with a lot of items to carry. For added warmth, travelers can wear thermal underwear underneath the synthetic pants.
Baggies
Packing away wet clothes remains unavoidable at times while on vacation, especially in a cold and damp locale like Alaska. Wrapping clothes in nylon laundry bags or simple plastic bags can prevent dry clothes from also getting wet in a suitcase.
Extra Batteries or Charger
Alaska features grand landscapes filled with mountains, fjords and glaciers. Travelers may wish to make certain they remain prepared with backup batteries or chargers for their cameras.