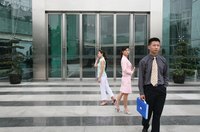 An empowered workforce is one where employees are given the authority to make the daily decisions that affect their jobs. According to the Management Skills Advisor, employee empowerment is more about creating an extension of the team manager rather than forcing the manager to relinquish control. As employees learn from their managers, they can apply that knowledge to their daily tasks and then expand on what they have learned by applying their own personal experience.
Job Satisfaction
According to the online information resource Dawn, when employees are given the ability to create a more efficient job process, there is a feeling of accomplishment that boosts employee morale. The employees feel vested in the success of the company, and employee decision-making has a direct impact on revenue. The increase in employee morale can make interactions with customers more positive, and that can result in more revenue as well. Employees feel responsible for the company's success or failure, and work harder to create positive results.
Company Processes
When employees are given more hands-on authority to improve their job functions, the results are often times an improvement in company processes, according to the Management Skills Advisor. As employees improve the way their jobs are done, company training methods can be improved for future employees. Employee empowerment can help create a more functional employee manual by being modeled more on employee experience than human resources theories.
Management Disdain
Managers that prefer total control will have a difficult time adjusting to employee empowerment. If the organizational structure is not changed, and managers are still responsible for the performance of their group, then those managers may be lees willing to relinquish control. Without proper planning a program of employee empowerment can create an feeling of disdain and distrust among managers.
Chaos
According to Dawn, one of the potential issues with employee empowerment is chaos. Employees will feel that they are empowered to make their own decisions, so the lines of managerial responsibility can become blurred. Company communication can start to break down as employees feel less need to report to a central governing body and begin working under their own set of rules. Eventually, the organizational structure could start to break down and the company would be in trouble.