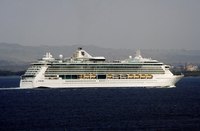 Celebrity Cruises is a step up from mass-market cruise lines such as their sister company, Royal Caribbean. The Celebrity cruise experience is a happy medium between value and luxury. Advance knowledge of what to expect on a Celebrity cruise can not only help you plan your trip, but also go a long way toward getting the most out of your cruise vacation.
Before the Cruise
Take some time to plan how you want to spend your time during your cruise. Before your cruise date, book ship-to-shore excursions and make dining and spa reservations online through Celebrity's website. Although meals are included in your ticket price, soft drinks and alcoholic beverages are not. If you plan to drink, consider purchasing beverage packages for yourself and your guests to help reduce the cost of drinks. At least three days before your departure date, use the online check-in system to check in early and avoid the long check-in lines at the embarkation port.
If you plan to take any valuables with you on the cruise, including wedding rings, it's a good idea to insure them for the trip. Although the cruise line will generally do everything they can to help recover lost or stolen items, they are not responsible for replacing or compensating you for your loss.
What to Pack
Celebrity's dress code is "stylish resort wear." In warm weather, this includes walking shorts, swim suits and cover-ups for when you're not in the pool, business casual shirts and tops and lightweight slacks and skirts. For cold weather cruises, business casual clothing that can be layered for extra warmth is recommended, along with an umbrella, rain coat, waterproof hat and gloves. It's also recommended to bring comfortable deck shoes, sunscreen, a good pair of sunglasses and a hat for sun protection. If you take medication, be sure to pack an adequate supply to get you through the trip. Illegal drugs, weapons, alcohol, flammable items and electrical appliances such as coffee makers or irons are prohibited and should be left at home.
Boarding the Ship
If you don't complete online check-in three days prior to your cruise, you'll need to check in at the port at least two hours before departure. If driving to the port, research parking garages near the port that offer shuttle service to and from the departure gate. Otherwise, verify that your hotel offers shuttle service when booking your reservation.
Have your boarding documents ready. These should include your boarding pass and passport, as well as any other documents that are required to re-enter the country from which you'll embark. Once on board, you'll be given a Seapass card that serves both as your ID for exiting or entering the ship and as a credit card for charging purchases to your cabin or stateroom.
Onboard Communication
Celebrity Cruises offers a roaming network that makes it possible to use your mobile phone while on the ship. Your mobile network's roaming charges will apply. Otherwise, you can make ship-to-shore calls from your room, and friends and family can call the ship, for $7.95 per minute. The ships also operate a 24-hour Internet café, where you can either purchase minutes by the package or individually at 65 cents a minute. Letters, postcards and packages can be mailed from the ports of call. Any packages that you receive at a port will be delivered to your stateroom.