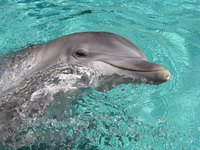 Dolphins are protected under the Marine Mammal Protection Act of 1972. Swimming with wild dolphins is considered "harassment" under this act and is prohibited by law so no programs in the San Francisco Bay Area (or anywhere else in the United States) let you swim with dolphins in the wild. However, you can swim with Atlantic bottlenose dolphins at the Six Flags Discovery Kingdom theme park in Vallejo, California, about 30 miles northeast of San Francisco. Swimming in a tank doesn't pose the same risks as swimming in the open ocean, so this can be a safer experience, too. Six Flags offers three dolphin adventures.
Dolphin Discovery
The Dolphin Discovery program starts with a classroom session, in which trainers will tell you about the dolphins and describe how they are cared for and trained. After the class, you'll be able to get in the water and swim with the dolphins. The program lasts about two hours. Space is limited and fills up fast. Participants must be at least 4 feet 4 inches tall. A paid adult participant or observer must accompany those 11 years old or younger. An observer pays $20 and takes the classroom part of the program but doesn't get into the water. The 2010 price to participate was $124.99, in addition to park admission. A photograph of the participant with the dolphins is included in the price.
Wine and Dine
The Dolphin Discovery Wine and Dine program is the same as the Dolphin Discovery program, but includes a gourmet lunch with wine, prepared by Six Flags' resident chef. Lunch is served poolside after the dolphin swim. In 2010, the program cost $164.99, or $189.99 with admission to Six Flags included.
Dolphin Trainer
The Trainer for a Day program is a seven-hour program that allows up to four participants to work with sea lion and dolphin trainers for the day. Participants must be 12 years old or older and at least 4 feet 4 inches tall. In addition, they must be able to climb stairs, lift 50 pounds, swim without help and communicate in English. This program cost $400 in 2010 and is available Friday-Sunday when the park is open. During the program participants may get in the water with the dolphins and give them signals. According to Six Flags, the dolphins have been known to give participants kisses and handshakes. Registration includes an official Discovery Kingdom Trainer for a Day T-shirt and a souvenir photo taken.
Safety
The National Oceanic and Atmospheric Administration's National Marine Fisheries Service has received reports of swimmers being injured when illegally swimming with wild dolphins in Florida. "Dolphins have a reputation for being friendly to humans, but the fact remains they are powerful, wild animals that can be very aggressive," said Nancy Foster, deputy director of NOAA's National Marine Fisheries Service. "Feeding and swimming with dolphins may appear to be fun for humans, but can be very harmful to both the dolphins and the people."