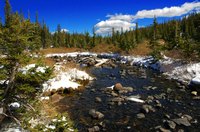 Whether it's your first or your 50th anniversary, you and your spouse should take advantage of the occasion as a time to get away from your busy lives and rekindle your romantic feelings. With its combination of dramatic mountain ranges, dense forests, and lush, expansive prairies, Colorado is an ideal place for nature lovers to experience a romantic getaway.
Dripping Springs Inn
Nestled between Rocky Mountain National Park and Roosevelt National Forest is the charming town of Estes Park. Spend your anniversary at Dripping Springs Inn, a local bed and breakfast. Dripping Springs offers a special anniversary package, which includes a room with a hot tub, a bouquet of roses, a bottle of champagne, and chocolate covered strawberries. During your stay, enjoy outdoor activities such as rock climbing, horseback riding and boating. Estes park is also home to the Valley of the Wind Winery and the Snowy Peaks Winery, where you and your spouse can enjoy tastings and tours.
Dripping Springs Inn 37 Dripping Springs Lane Estes Park, CO 80517 970-586-3406 drippingsprings.com
Colorado Rocky Mountain Cabin Rentals
Head to one of Colorado Rocky Mountain Cabin Rentals' two secluded, romantic cabins if you want if you want a completely private excursion. Not far west of Colorado Springs, the Little Rocky Mountain cabin and the Whispering Pines cabin have front porches with a grills, cozy living rooms with fireplaces, furnished kitchens and outdoor hot tubs. Little Rocky Mountain has views of Pike's Peak and Whispering Pines is not far from the tiny town of Divide, Colorado. While visiting the area, take a three-hour romantic ride aboard the scenic Pike's Peak Cog Railway. Other area activities include hiking, skiing, snowshoeing and snowmobiling.
Colorado Rocky Mountain Cabin Rentals no address 719-209-0952 cabinsofcolorado.com
Springs Resort and Spa
For a weekend of pampering and relaxation, spend your anniversary at the Springs Resort and Spa. Overlooking the San Juan river, the Springs Resort is home to 23 hot spring pools as well as a Mediterranean bathhouse. The spa and salon offers skin and hair services, massage and tanning. Four romance packages are offered and include perks such as massage coupons, dinner coupons, champagne, truffles and bubble bath. Nearby activities include fly fishing, hot air balloon rides, rafting, mountain biking and horseback riding and the resort offers several guided excursions. The resort is located in close proximity to the Wolf Creek ski area.
Springs Resort and Spa 165 Hot Springs Boulevard Pagosa Springs, CO‎ 970-264-4168‎ pagosahotsprings.com