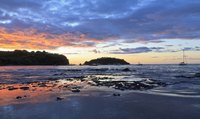 With its nearby blindingly white beaches, azure waters and relaxed lifestyle, this charming town on the Pacific side of Costa Rica is a favorite destination for surfers, sun-worshipers and those who love a rainforest that is home to several volcanoes. Liberia is still a relatively sleepy little burg, but with many of the perks of a larger city. While you won't find fancy nightclubs, you will find a few places to dance, drink and enjoy the evening Costa Rica style.
Pass the Salsa
The wild neon lighting in LIB does give it the feel of a real nightclub, as does the loud salsa and rock music along with tasty local snacks. This open-air disco on the second floor of Plaza Santa Rosa mall is always free for women, but on weekends men must pay a variable -- who knows why? -- cover charge.
Everybody Dance Now
The younger crowd gravitates to Kuru, just outside town on the other side of the only stoplight in Liberia. Not only is the dancing nonstop, but everyone watches from the outdoor bar to see who is arriving. When Kuru closes, many hardcore partiers head across the street to the gay-friendly Bar de Luna, which stays open all night, allowing you to see sunrise with a cocktail in hand or just blisters on your dancing feet.