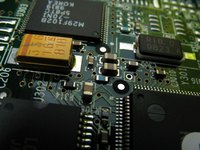 Businesses are no strangers to technology. Whether it's email, employee monitoring, computer networking or even just plain photocopying, technology plays an important role in the infrastructure and day-to-day operations of most businesses. Technology helps businesses out, making many things possible which otherwise wouldn't be, but it can be a curse too.
Access
Businesses used to be limited to their local area and to the people who could physically get to them. With technology such as the Internet, and particularly thanks to e-retail sites such as eBay, businesses can extend their reach all over the globe. Even a very small business can hook up to an online retail site and sell its wares to a customer on the other side of the world. Businesses also have technology to thank for allowing more consumers to find them; for example, a customer might use a smartphone app to locate a service or store he wants to use, leading him straight to the business.
Save Money
The integration of technology into businesses has brought with it many cost-saving options. As described by the Business Computer blog, a business might use e-mail to send thousands of consumers a newsletter, as opposed to printing each newsletter on paper, which would cost a huge amount more.
Dependence
Once a technology solution is implemented into a business, that business integrates it into its daily operations. Soon, the business can't remove the technology without running into serious difficulties. As the Business Computer blog points out, this dependence can have dire consequences should the technology fail, due to a technical fault, for example. In this case, the business may well find it very difficult to continue its activities without its vital technology.
Upgrades
Business technology isn't set in stone. Each year, there's a chance that at least some of the technology a business has come to rely on will become obsolete, and thus need upgrading or possibly replacing. These upgrades may cost money, and even if they're free, there's going to be hassle for the business and a period of discomfort as the business and its employees struggle to get used to the new features.
The decision of whether to upgrade can also be daunting. Many businesses use the Microsoft Office suite, for example, and as noted by the CIO news website, when an updated version of these programs is launched, businesses must weigh the pros and cons of making this upgrade. Businesses won't want to get left behind, but must consider whether they can afford the cost of the upgrade.