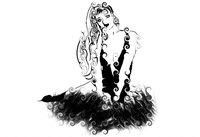 Waxing is the hair removal treatment of choice for many women, as well as some men. Hair regrowth usually takes at least a few weeks, and waxing generally tends to weaken regrowth. Many people choose to go to a beauty salon for this treatment, avoiding the mess of doing it at home. Visiting a salon every few weeks can get expensive, however. For this reason, many women choose to use wax at home.
Hot Wax
Waxing can be carried out with either hot or cold wax, and each method has its advantages and disadvantages. Both waxes have very similar ingredients: a wax base, usually of parrafin or beeswax, and a resin to help the wax stick. The hot method tends to be more effective. Hot wax is usually purchased as a hard solid in a small tub. The wax must first be melted, and then is applied with a wooden spatula to the parts of the body the user wishes to wax. This method is somewhat messy, and the wax residue that is left behind will need to be removed, usually with finishing oil. There are two types of hot wax: soft and hard.
Soft Wax
Soft wax is applied with a wooden spatula after it has been warmed according the instructions. It remains quite sticky and tacky, and should be removed with thin strips of cloth manufactured solely for this purpose. Generally, soft wax is better suited for removing fine hair. Soft wax has the added benefit of being easy to wash off.
Hard Wax
Hard wax hardens quite firmly on the skin. It can be removed without a strip; therefore, it is sometimes known as no-strip wax. Hard wax is gentler on the skin than soft, and tends to cause less sensitivity and redness. Like soft wax, hard wax must first be warmed according to the manufacturer's instructions, and then applied with a spatula. When done properly, hard wax tends to cause less pain than soft wax, but it is really only effective on coarse hair.
Cold Wax
Cold waxing is the most common method for people carrying out waxing at home. Cold wax strips come ready to use, with the wax already applied to the strip. Although they are convenient and much less messy, cold wax strips can be a bit more painful to use, and the results are not always as good as those achieved with hot wax methods.