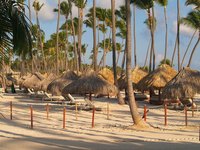 An all-inclusive vacation takes the stress of planning where to eat out of the travel equation so that you can truly relax and rejuvenate. Most all-inclusive resorts are found internationally in Mexico or the Caribbean, but you can find a number of all-inclusive resorts within the domestic United States. Florida's Gulf Coast offers a number of luxury all-inclusive vacation options.
Sundial Beach & Golf Resort
Nestled on the Florida Gulf's Sanibel Island, the Sundial Beach & Golf Resort provides an optimal getaway for the luxury traveler. The beachfront resort is comprised of a variety of guest rooms from studio condominiums to luxury home rentals. The resort offers golf and spa packages as well as access to its 1-mile stretch of beach and all-inclusive dining options at its bar and grill. You can also participate in the resort's all-inclusive grocery package that delivers meals to your door.
Sundial Beach & Golf Resort 1451 Middle Gulf Drive Sanibel Island, Florida 33957 866-565-5093
sundialresort.com
Little Palm Island
The recipient of Travel & Leisure Magazine's World's Best Award in 2010, Little Palm Island is a secluded island off the coast of Florida that promises relaxation in a luxury setting. Accessible only by boat, Little Palm Island Resort & Spa often caters to celebrities and other high-profile guests. The resort boasts 30 oceanfront bungalow suites for guests ages 16 and older. The resort's renowned executive chef prepares gourmet meals as part of an all-inclusive package.
Little Palm Island Resort & Spa 28500 Overseas Highway Mile Marker 28.5 Little Torch Key, FL 33042 800-343-8567
littlepalmisland.com
Naples Grande Beach Resort
The pristine beaches of Naples line Florida's Gulf Coast. Twenty-three well-manicured acres feature tennis courts, golf courses, a spa as well as sand and surf make up this Waldorf Astoria Collection resort. All-inclusive golf and spa packages are available.
Naples Grande Beach Resort 475 Seagate Drive Naples, FL 34103 (239) 597-3232 naplesgranderesort.com