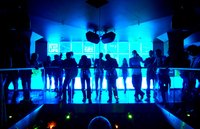 In Alabama, private gay clubs are great nightlife options for the homosexual community as they feature a more exclusive and controlled clientele. Mostly located in Alabama's largest cities, these clubs offer a wide range of dancing, live shows, DJs and drink specials, each with their own unique atmosphere. As private clubs, these establishments require applications for membership.
B-Bob's Lounge
Serving the LGBT community since 1992, B-Bob's Lounge in downtown Mobile is a multi-level nightclub that boasts the only computer-generated interactive lighted dance-floor in the southeastern United States. Known for its friendliness, B-Bob's also hosts club dance shows, drag shows and other celebrity events sure to draw crowds. It opens daily at 5 pm.
B-Bob's Lounge 213 Conti St. Mobile, AL 36602 251-433-2262 b-bobs.com/
Gabriel's Downtown
The oldest gay club in Alabama, and voted Mobile's Best Gay Bar by the "Mobile Bay Monthly" in 2006 and 2008, Gabriel's Downtown is an institution among the gay community. Gabriel's regularly hosts karaoke nights on Wednesdays and Fridays, DJ shows on its cozy back patio and other fun special events. As a private club, Gabriel's is able to serve drinks after 2 am. Only members and guests of members are allowed in Gabriel's; non-members may easily request an application for membership from the bar.
Gabriel's Downtown 55 S. Joachim St. Mobile, AL 36602 251-432-4900 gabrielsdowntown.homestead.com/menu.html
The Quest Club
Alabama's only 24/7 dance-club, the Quest Club also hosts dart and pool tournaments, DJ nights, live shows, karaoke and other events. Wednesdays through Sundays, Quest opens its doors to 19 to 20 year olds with a cover charge. The club remains 21 and over on Mondays and Tuesdays, however. Club-goers 21 and over pay a smaller cover charge every night. Quest remains a private club, so you must apply for membership.
The Quest Club 416 S. 24th St. Birmingham, AL 35233 205-251-4313 the-quest-club.com/
The Oasis
Opened in 2008 in Montgomery, the Oasis offers both dancing and shows. Open Thursday through Sunday, Oasis hosts shows on Friday and Saturday nights. The club boasts karaoke, dart-boards, pool tables and an outdoor patio, as well as allowing smoking throughout the club. Free parking is available. Beer and bar specials are available on Thursday and Sunday nights.
The Oasis 6500 Lower Wetumpka Road Montgomery, Alabama 36110 334-264-4444 mygayweb.com/bars/view/?ID=2605