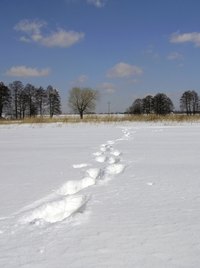 Find a good pair of snow boots and life in Alaska transforms from bad to good. Few people rely on winter gear as much as Alaskans. Choosing lesser-quality snow boots, for Alaskans, means suffering physical consequences like frostbite. Still, the snow boots of the past offered little choice. At most, consumers learned the maximum temperature range for a particular boot. Today's boots offer plenty of choices, with waterproof half-shells, bellowed tongues, air cushions and the weight of the boot factored into the selection. Simplify your boot shopping by examining a few crucial elements. Alaskans and others living in similar climates require, at least, a comfortable temperature range down to -40F, waterproofing and decent traction on the outsole.
Warmth
Keep your feet warm in temperatures down to -60F with Sorel's Alpha Track Buckle Snow Boots. With a design similar to old-fashioned snowmobile and ski boots, Sorel created this 100-percent waterproof boot for anyone who likes to play in the snow in extremely frigid weather. Alpha Tracks also have removable insulation liners and felt footbeds for sunny days when the temperature soars to -10F. Sorel constructed the upper part of these boots with a waterproof, breathable membrane, which has mesh-backing and waterproof suede leather to seal seams. In addition, these Sorels have wind shielding, easy-entry and built-in gaiters with barrel-lock closures to mold to your foot for increased comfort. Alpha Tracks have reflective safety graphics for nighttime outdoor activities. Sorel's Alpha Track Buckle Boots come in men's and womens' sizes and cost around $180, as of August 2010.
Best Traction
Check out Lowa's Kripton GTX snow boots when you live somewhere with extreme cold. Based in Europe, Lowa has manufactured Bavarian mountain-climbing boots for more than 90 years. The Kripton GTX snow boots have a unique "SnowGrip" outsole that provides the kind of traction you need for climbing in deep snow or icy surfaces. The GTX also features synthetic nubuck combined with Cordura leather in the upper part of the boot, a warm insulated lining, waterproof exterior and interior, moisture-wicking ability to draw water away from the foot and a heel truss to hold the back of the foot firmly in place. Lowa constructs the GTX for both men and women, but the boots differ structurally to suit each sex. One thoughtful feature of Lowa boots is the "one-pull" lacing system. Even while wearing heavy winter gloves, you can put on or take off your boots with ease. The Lowa Kripton GTX run around $200 as of August 2010, and are rated at the top of the "Best of" category for snow boots on the 3LUXE online consumer-review website. Reviews from 3LUXE are based on magazine reviews, consumer opinions, web reviews and company information.
Best for Kids
The Muck Kids Arctic Sport remains the best-selling snow boot for kids at Alaska's popular Prospector Outfitter's store. The adult version of the Muck Arctic Sport is named among the Prospector's warmest gear. Both adult and kids' versions share standard features like a waterproof natural rubber exterior, stretchy topline binding, foam booties with a stretchable and waterproof nylon lining, toe protection, contoured footbeds, light and flexible outsoles, plus double-reinforced foam-padded insteps to support the heel and achilles. The topline binding on all Arctic Sports fit snugly to the calf which keeps snow and cold air from reaching the feet. While the adult Arctic Sport boots have a comfort range to -40F, the kids Arctic Sports remain comfortable to -85F. Adult Arctic Sport snow boots cost around $125 and Arctic Sport boots for kids cost around $55, as of August 2010.