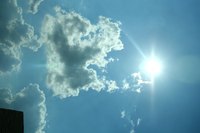 KAMUT, and its derivative Green KAMUT, is a trademark used by Kamut International, Ltd. that is derived from an ancient Egyptian hieroglyphic which roughly means "wheat bread." This trademark is used to market the ancient wheat, khorasan. The wheat sold under these trademarks must meet eight specific criteria, including that the wheat must be grown as a certified organic grain. Green Kamut is khorasan that has been harvested in its grass stage.
Copious Vitamins and Minerals
Dark-green, leafy vegetables--like Kamut in its green grass stage--contain high doses of vitamins A (for improved eyesight and reproduction), B (aids nervous and digestive systems) and E (a fat-soluble vitamin and an antioxidant).
According to Business Wire, khorasan also contains a higher percentage of minerals and protein than modern wheat and a higher percentage of lipids, which makes it a high-energy food.
Oxygen-rich
The chlorophyll of green plants, including that of Green Kamut, makes the food oxygen-rich. The brain and all body tissues function best when high levels of oxygen are available to them.
Accessible
Green Kamut comes in a variety of forms for your convenience, including powder, juice, capsules, food bars and ice cubes. The Kamut corporation lists companies that sell its products on their website. These retailers are located in Canada, Denmark, Germany, the Netherlands and the United States.