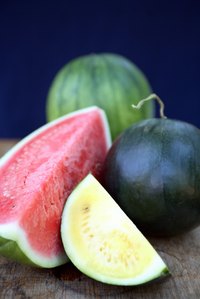 pH (an abbreviation for "potential of hydrogen") is a measurement that reflects whether a solution is acidic or alkaline. The human body works to maintain pH balance between acidic and alkaline ions. By consuming diets deficient in whole foods, many people maintain overly acidic bodies. The Natural Health School online explains that, in digestion, foods create products that are either acidic or alkaline. Alkalizing diets can help to restore pH balance and healthy immune function.
Alkaline-Forming Vegetables
Many websites feature detailed guides of alkalizing foods, including vegetables, fruits, spices and seasonings, including Advanced Health Plan and The Wolfe Clinic. Familiar alkalizing vegetables include: asparagus, broccoli, brussels sprouts, cabbage, carrots, celery, cucumber, garlic, green beans, green peas and potatoes. Most varieties of greens--both raw and cooking greens--are alkalizing. Varieties include kale, lettuce, mustard greens, collard greens and dandelion greens. Many sea vegetables are alkalizing, including: kombu, nori and wakame.

Alkaline-Forming Fruits
Many orchard and stone fruits are alkaline-forming when consumed. These fruits include apples, apricots, cherries, nectarines, peaches and pears. Most citrus fruits, like lemons, limes and oranges, are also alkalizing. Melons and berries are alkalizing fruits, including blackberries, blueberries, cantaloupe, honeydew melon, raspberries, strawberries and watermelon. Tropical fruits, such as bananas, coconuts and pineapples, tend to be alkaline-forming as well.
Alkaline-Forming Protein
Alkalizing proteins include nuts and seeds, grains, soy and dairy foods. Alkaline-forming nuts and seeds include almonds, chestnuts, flax seeds, squash seeds and sunflower seeds. Millet is an alkalizing grain. Fermented tofu and tempeh are also alkalizing. Whey protein powder and yogurt are alkalizing dairy protein sources.
Alkaline-Forming Spices and Seasonings
Many food seasonings are alkalizing, including all herbs, chili peppers, cinnamon, ginger, miso, sea salt and tamari.