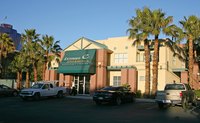 Lower prices generally are in smaller towns such as Valdosta, while comparable accommodations in the metropolitan Atlanta area can be significantly higher – as much as $550 for a one-bedroom unit at Extended Stay America as of December 2014. Weekly rates typically are lower than if rooms are rented by the day.
Extended Stay America
National chain Extended Stay America has more than 20 long-term-stay hotels in Georgia -- one each in Macon and Savannah, two in Columbus and 20 in and around Atlanta. Each hotel room is a suite with a fully equipped kitchen and full-size refrigerator; other amenities include an on-site laundry room, free Wi-Fi, unlimited local phone use and personalized voice mail, and flat-screen TVs with premium channels. All Extended Stay hotels are company owned and operated so there's less variation than one might find at a franchised hotel chain. Pet-friendly accommodations are available. As of December 2014, guests at Extended Stay America get 17 percent off the daily rate for a stay of up to two weeks and a discount of 31 percent daily if they rent by the month.
InTown Suites
InTown Suites, a smaller upstart with 130 locations around the country, operates 22 hotels in the state, with 15 of them in the Atlanta metropolitan area and the others in Albany, Athens, Duluth, Macon, Savannah, Valdosta and Warner Robbins. InTown's long-term-stay hotels offer full kitchens, full-size refrigerators, dinette tables and chairs, free premium TV channels, free high-speed Internet access and on-site laundry rooms. InTown has suites with up to two bedrooms. No pets are allowed. InTown Suites weekly rental rates typically are lower than Extended Stay America's.
Marriott
Marriott may be considered a luxury hotel operator known for high-end resorts under the J.W. Marriott brand, but several of its more affordable marquees offer extended-stay accommodations throughout Georgia. According to the Marriott website, the company maintains 27 properties under the Residence Inn and TownePlace Suites names in the Peach State that offer discounted weekly rates. The lowest prices for studio suites as of December 2014 was about $450 a week at the TownePlace Suites in Alpharetta, which is about what a single night costs at a J.W. Marriott resort hotel. Rooms in the center of Atlanta and other urban areas often are significantly more expensive.
Value Place
Value Place is a national chain of long-term-stay hotels launched in 2003 by Jack DeBoer who, according to the chain's website, "is known in the industry as the founder of extended stay lodging." The chain currently has nearly 200 locations in 30 states, including Georgia, where it has eight properties offering suites available on a weekly basis for the mid-$200s. Value Place hotels are located in Alpharetta, Augusta, Columbus, Macon and Savannah.