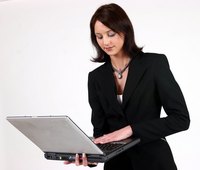 Mortgage brokers are required to create internal audit programs to examine mortgage files for compliance to federal and state government regulatory agencies. Audit programs assist mortgage brokers when assessing mortgage files during pre- and postmortgage activities. Most mortgage brokers use a combination of forms, documents, checklists and software programs to perform pre- and postinternal audits of mortgages.
Analysis Software
Analysis software can select mortgages to be analyzed by their rates, appraisal value or compare the cost of processing mortgages by metropolitan statistical area. Software can produce several types of exception, summary and statistical reports for management or auditor review. Analysis software is a PC-based program that can be loaded to a computer, which has a database of mortgage information and uses end-user menu selections to extract data.
Regulatory Checklists
Regulatory checklists are used by brokers to audit the documentation of mortgages, mortgage processing and filing requirements. Checklists also include questions pertaining to mortgage company operations, issues regarding insurance and bonding of the mortgage broker, and records retention policies. Most brokers prefer to use checklists based on the Real Estate Settlement Procedures Act of 1974, or RESPA.
Interest Calculation
Poorly calculated interest rates can cost a mortgage holder thousands of dollars. Interest calculation programs are used to help brokers pinpoint loan calculation errors and to make adjustments according to those errors. This software program is inserted into a computer and scans mortgage files based on interest rates by using the GAAP Accounting Rule of 78 methods. When records with interest rates that are not calculated correctly are found, the mortgage is flagged on the system, allowing the broker to conduct research on the mortgage.
Prefunding Audit Program
Prefunding audit programs are used by brokers to eliminate fraudulent information and transactions involving loans and inflated property values caused by errors in property assessments. This program also verifies the borrowers Social Security number against centralized database files maintained through public records. It also reviews tax returns of the borrower through a computer interface with Internal Revenue Service computers.