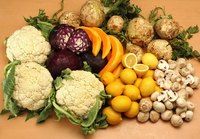 Alkaline food has an alkaline effect on the body during digestion, and is mostly natural and unprocessed. Dr. Robert O. Young, founder of Energise for Life, explains that a mostly alkaline diet is essential for good health. A proper pH balance can be achieved through a diet of 80-percent alkaline foods and 20-percent acid-forming foods.
Research in this area is ongoing and lists of alkaline foods can be contradictory, mostly because many foods test alkaline prior to digestion but have an acidic affect on the body and vice versa.
Vegetables
Alkaline food lists show that most fresh vegetables are alkaline. A few vegetables, such as Brussels sprouts, are listed as alkaline on one list and acidic on another. Still another list will show Brussels sprouts as "unknown."
Fruits
Most fruits are alkaline prior to and during digestion. Some fruits are acidic prior to digestion but have an alkaline affect on the body, such as lemons, limes, and tomatoes.
Fluids
Dr. Young believes that the pH level of internal fluids affects cellular functions. An over-acidic pH creates a negative cellular environment. Replenishing the body with alkaline fluids is vital to keeping the entire body healthy, inside and out. Drinking alkaline water can help to balance the body's pH level. Alkaline water is either distilled or ionized and can be flavored by adding fresh lemon or lime juice. Herbal tea, vegetable broth, non-sweetened soy milk and almond milk are other alkaline beverages.
Nuts and Seeds
Alkaline seeds are any seeds that have sprouted and some non-sprouted seeds including, pumpkin, sunflower, sesame, flax and cumin. Some nuts, such as almonds, are alkaline as well.
Grains
Alkaline grains are the sprouts of soy, wheat and alfalfa. The list of alkaline grasses include: straw, barley, dog and kamut. The grains category of alkaline food lists vary as some list grains as alkaline and some list them as acidic.