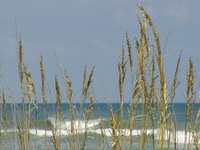 Home to Elizabeth City State University, Elizabeth City is located in the northeastern corner of North Carolina, just above the Albemarle Sound and below the Virginia state line. Residents, visitors and college students in the area can easily access Virginia and North Carolina beaches by boat or by automobile. Boaters can head southward on the Pasquotank River and turn eastward on the larger Albemarle Sound and head toward beaches on the Atlantic Ocean.
Nearby Waterways
Small beach areas suitable for kayaking, fishing, boating and other pleasure craft are accessible by boat from Elizabeth City's waterways. Boaters can follow the Pasquotank River into Albemarle Sound, where numerous small, sandy stretches of beach await discovery. These remote sections are appropriate for small water craft, picnics and stay-in-the-boat activities.
Northern Beaches
The Outer Banks area of North Carolina close to Elizabeth City consists of a long, narrow strip of land along its eastern coastline, narrow enough in places to see sound and ocean on both sides of Highway 12, which runs along this strip of land. Although Virginia Beach in Virginia is the largest beach near Elizabeth City, unless going by boat, travelers cannot reach it via Highway 12. They may take a longer, alternative northerly land route.
Northerly Currituck Sound includes small, remote beaches of Corolla, where wild horses still roam. Near Corolla lies Currituck Beach Lighthouse.
Duck and Southern Shores
The quaint village of Duck is bounded on the west by Currituck Sound and Intracoastal Waterway. It is situated right on the Atlantic Ocean and has beautiful ocean vistas of sand, surf and sky. Duck is home to The Sanderling Resort and Spa, where meetings, weddings, events, reunions and relaxing vacationing attract thousands each year. Visitors find the shopping, fine and casual dining, water sports, biking and overall relaxation appealing, despite Duck's small size.
Southern Shores, a small residential community, offers home rentals. The town has beautiful natural areas, walking and biking trails, and maritime forest. Beach access is not available to the public, however, residents and vacationers staying in the area are allowed access.
Kitty Hawk and Kill Devil Hills
Located at the ocean end of the Albemarle Sound are the towns of Kitty Hawk and Kill Devil Hills. Kitty Hawk provides public beaches for visitors and residents, and has ample parking available. Fixed lifeguard stands appear at the Byrd Street access, the Eckner Street access, and the Kitty Hawk Bath House access. Other roving lifeguards roam on all-terrain vehicles.
The famous Kill Devil Hill, from where the Wright brothers took off into aviation history in 1903, and the town of Kill Devil Hills are two separate places. Both are located near each other and boast beautiful beaches, complete with dunes, sand and ocean beauty.
Nags Head
The largest beach town on Highway 12 that faces the Atlantic Ocean is Nags Head. With its bustling tourist business, Nags Head has a large selection of hotels, cottages and condominiums as well as plenty of beaches with public access.
Nags Head attracts thousands of visitors each year. It is convenient to the other beaches near Elizabeth City and has many fine restaurants, activities for kids, shopping areas, fishing venues and even dolphin watching tours. Pirates roamed these waters. Nearby Manteo is home of the Lost Colony, a long-running drama about the first English settlers in the New World.