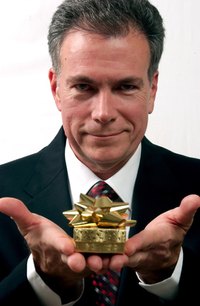 Recipients of unrestricted stock grants might feel like winners of free gifts until their paychecks are smaller due to the income tax consequences. Property received for services rendered usually receives the same tax treatment as cash compensation. In the case of stock shares, the fair market value is added to income and subject to both regular income tax plus Social Security and Medicare taxes under FICA.
Transferable Stock
If you are granted stock that has no restrictions, you are taxed at the time of the grant on the value of the stock. Stock is unrestricted if it may be unconditionally sold or transferred. If the stock is not traded on an active exchange and has an otherwise undetermined value, then the tax is assessed when the unrestricted stock is actually received and available for resale.
Bonuses and Awards
Bonuses or awards you receive for outstanding work are included in your income. These include awarded shares of unrestricted stock. The fair market value of the stock is taxable income. However, the stock must be awarded under a formally recognized plan for unrestricted stock grants. The stock value is taxable only if the shares are available to you. If your employer merely promises to give you stock sometime in the future, the value is not taxable until you actually receive it.
Employee Achievement Awards
In limited circumstances, grants of unrestricted stock from your employer can be excluded as taxable income if they are specifically awarded for length of service or safety achievement. The amount you can exclude from taxable income is limited to your employer's cost and cannot exceed $400 for all rewards during a single year. The unrestricted stock award must be provided in a meaningful presentation of recognized achievement.
The IRS will consider unrestricted stock as taxable pay if it is given as a length-of-service award for less than five years of service or if you received another length-of-service award during the previous four years. Also considered taxable compensation by the IRS are safety achievement awards for managers, professional employees and clerical staff, or if more than 10 percent of eligible employees receive such safety awards during a single year.