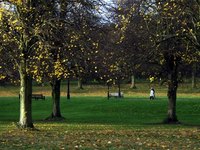 Ninety-two miles east of San Francisco in Northern California, Modesto is also less than seventy miles away from the state capital of Sacramento. Popular attractions in Modesto include the Gallo Center for the Arts and the Xclamation Festival, which is an annual entertainment and cultural gathering. In addition to these cultural attractions, Modesto offers a surprisingly wide variety of fun and romantic activities.
Couples Massage
Not only is couples massage a fun, intimate way to unwind, but it's also therapeutic and calming. Modesto has several locations that provide couples massage. One example is Caring Touch, which guarantees its patrons 100-percent satisfaction. Outcall services are available for couples who would rather have their massage at home, or at some other offsite location.
Caring Touch 915½ 14th St. Modesto, CA 95354 209-614-8195 caringtouchtherapy.com
Another popular destination that offers couples massage is A Place to Relax Massage & Skin Care Day Spa, which allows partners to lay side by side in a dimly lit room during the massage.
A Place To Relax Massage & Skin Care Day Spa 1127 13th St., Suite B Modesto, CA 95354 209-575-0518 aplacetorelaxspa.com
Romantic Dinner
A romantic dinner in an intimate setting allows couples to get to know one another over good food and wine. Modesto's restaurants range from casual to elegant, and offer many different types of cuisine.
Galletto Ristorante is a downtown eatery that specializes in rustic Northern Italian fare. Located in a former art-deco bank from the 1930s, the indoor dining room offers a choice of cozy booths or table seating. The décor is warm and intimate, with low lighting and beige hues. For couples who prefer to dine al fresco under the night sky, outdoor seating is available.
Galletto Ristorante 1101 J St. Modesto, CA 95354 209-523-4500 galletto.biz
Tresetti's World Caffé is also ideal for a fun night out. Located amid the bright lights of downtown Modesto, it offers world cuisine and a full-service bar in a casual atmosphere. Tresetti's features organic options and an onsite wine shop, and provides a late-night menu until 2 a.m.
Tresetti's World Caffé 927 11th St. Modesto, CA 95354 209-572-2990 tresetti.com
Surprise Picnic
Public parks not only provide a host of options for recreational activities, but they are also an ideal location for a surprise picnic. This economical date allows you to choose a special locale, and creatively plan your menu and outdoor activities. Modesto has 75 parks to choose from; there are sites with picnic furniture and barbeque pits, as well as quiet, grassy areas for couples who would prefer to picnic on a blanket. Modesto's parks also have tennis courts, wading pools, bike paths and, in some locations, concerts and movie nights.
City of Modesto Parks, Recreation and Neighborhoods Department 1010 Tenth St. Modesto, CA 95354 209-577-5344 modestogov.com/prnd/