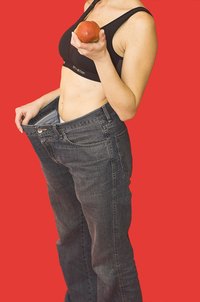 A bad diet is one that's nutritionally deficient. Plenty of people might not be aware that they practice bad diet habits every day, regardless of the amount of food they eat. A good diet focuses more on quality than quantity. The causes of a bad diet are common yet overlooked, as many people think they're eating a healthy, nutritious diet when they in fact do otherwise.
Commercialism
Plenty of food readily available for consumption is prepackaged and has no nutritional value whatsoever. Food that's sold as "a healthy snack" or a "complete meal all on its own" rarely has anything else other than sugar and chemical flavors, with very little of the vitamins and nutrients that it markets. In addition, many people include fast food in their diet, and that's full of low-density lipoproteins, trans fats and cholesterol, three components that are bad for anyone's health. Plenty of people consume "commercialized" food every day, which contribute to a bad diet and unhealthy eating.
Poor Eating Habits
Plenty of people skip the most important meal of the day, and even more skip plenty of meals throughout the day. People who believe they're fat skip breakfast, lunch or dinner and pay no attention to the lack of nutrition their body suffers as a result. People who believe they're too skinny overeat and pay no attention to a fatty food's nutritional value and long-term adverse effects. A healthy diet consists of three or more meals that complete the daily nutritional requirement, full of fiber, vitamins and minerals that maintain the human body inside and out. Poor eating habits such as skipping meals, having too many meals or eating at irregular times of the day have a great impact on someone's health and can be the cause of a bad diet.
Poor Health Education
The lack of knowledge on what a bad diet is leads people into following a diet that doesn't meet the recommended daily requirement of vitamins and nutrients they really need. Plenty of people are sickly and malnourished without even knowing it because of their lack of education as to what a good diet really is.
Lifestyle
Even people who typically follow a healthy, well balanced diet may fall into a bad diet due to change of environment, stress and body changes. For instance, women should adjust their diet during menstruation since they have an increased need for iron and calcium. Normally healthy people who follow a good diet are also prone to a bad diet when they're under heavy stress or when they experience a drastic change in work or at home, such as moving places of employment or residence.