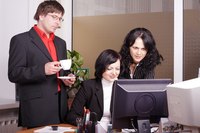 Assistant branch manager positions are found in industries including lodging, sales, food service and banking. Assistant branch managers have many responsibilities, but their position holds the potential for a promotion to branch manager. The education, pay and benefits for assistant branch managers vary from job to job, but the duties are fairly similar throughout the industries.
Manager Fill-in
Assistant branch managers are second in command to the manager. In the absence of the manager, assistant branch managers are expected to fill in. Duties you may have to take over include overseeing the daily operation of the business, sales expectations and goals and customer service. Assistant managers also provide strong leadership throughout the day, whether the manager is at the business or not. Assistant branch managers participate in company conference calls in the absence of the branch manager. When the branch manager is present, the assistant branch manager is still responsible for helping with daily duties.
Customer Service
Assistant branch managers make sure any customers who interact with the business are satisfied. You handle sensitive customer issues and respond to complaints. You offer support and guidance to sales members on the team in handling customer relations. Assistant branch managers may also be called on to deal with notoriously difficult customers. If you are an assistant branch manager in a business where accounts are canceled or deals fall through, it is often your responsibility to determine why the account was closed.
Employee Supervision
Assistant branch managers frequently assign employee schedules. You also oversee employee operations. The extent of this duty varies from job to job. In one upholstery business, the assistant branch manager oversees the cleaning quality and selling abilities of 40 employees. The assistant branch manager of a pest control company oversees staff performance and recommends improvements, compensation and rewards. The assistant manager of a car rental business meets daily with employees to follow up on goals and objectives. Assistant branch managers also help with hiring and reviewing employees.
Training
Assistant branch managers are often responsible for employee training. You evaluate the abilities of the staff and recommend training options to the branch manager. Assistant branch managers also ensure that the staff is trained in necessary areas. As part of a training curriculum, you make sure company policies and procedures are understood and enforced. Assistant branch managers address violations of company policies. You prepare new employees for any tests they are required to take as a new hire.