Whether fed as a snack or as regular items on the daily menu, fruits and vegetables contain fiber and nutrients beneficial to a puppy's diet. The addition of fresh fruits and vegetables benefits a puppy's hair, digestion and immunity as well as providing a healthy alternative to processed dog treats. As with any dietary change, puppy owners should consult their trusted veterinary professional before feeding their puppy fruits or vegetables.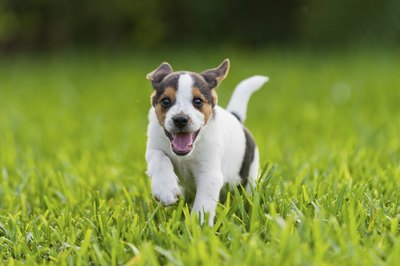 Fantastic Fruits
Puppies can enjoy small amounts of fruit served raw or mashed into their food. While fruits can be high in sugar and therefore should not be fed in large quantities, they contain vitamins that help improve a puppy's overall health. Blackberries, strawberries, raspberries and blueberries contain powerful antioxidants and can be fed two or three at a time. Cranberries must be stewed before a puppy can eat them, but they contain manganese and can help prevent urinary tract infections, according to the Dog Channel. Puppies can enjoy small amounts of cantaloupe and watermelon, if the seeds are removed first. Small amounts of banana can be sliced for a puppy's treat, and will provide his growing body with essential potassium. Fruit should be cleaned thoroughly before it is given to a puppy. Pits and seeds should be discarded, as many are known to contain toxins that can harm puppies.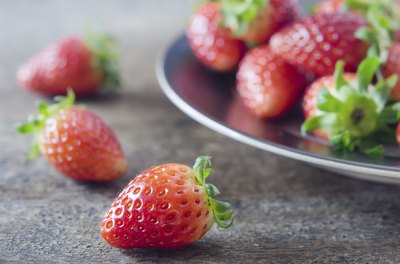 Pumpkin for Puppies
Served fresh or straight from the can, pumpkin provides dogs with the nutrients beta-carotene, potassium, zinc and vitamin A. Be sure not to use pumpkin pie filling as it contains sugar and spices. Pumpkin can be served as a snack and is often used as a natural remedy for diarrhea, constipation and obesity, according to the Dog Channel. When pureed, pumpkin is easy to mix into a puppy's dry dog food, but it also can be served as a low-fat snack. A licensed veterinarian can pinpoint the amount of pumpkin to feed a hungry puppy. The pumpkin's stem and leaves have sharp hairs that can cause discomfort, so only the pulp of the pumpkin should be given to the puppy.
Leafy Greens
Green leafy vegetables contain vitamins and help balance the body's pH, so they're a natural choice for a puppy's snack or mealtime. Spinach or kale can be chopped or steamed and added to a puppy's dinner, or it can be dried for a tasty take-along snack. Other leafy greens puppies can consume are lettuces, the leaves of dandelions, parsley, basil and cilantro, beet and carrot tops and sprouted seeds, according to Dr. Peter Dobias, DVM, on his website Natural Healing.
Raw Veggies to Chew
Certain raw vegetables can take the place of a puppy's favorite chew toy. A stalk of celery or asparagus provides puppies with a healthy alternative and may soothe teething troubles. Carrots, another choice with a satisfying crunch, provide fiber and beta-carotene, but should be given in limited quantities due to their sugar content. Zucchini, a source of vitamin C, can be frozen before giving it to puppies for chewing fun, but it also can be grated and served on top of the puppy's dinner. Cucumber is also best served raw and without seeds. Vegetables given along with a meal should be cooked to aid the puppy's digestion.