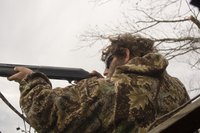 There are four species of quail native to New Mexico. The best area to hunt quail depends on which type of quail you are after. Quail can only be hunted during the season, regulated by the New Mexico State Wildlife Department. Season dates are usually from November to February but exact dates change annually, so check with the website before heading out. All quail hunters must have a valid New Mexico hunting license and must follow bag limits. Bag limits are determined annually and can be found on the New Mexico Wildlife Department's website.
Scaled Quail
Scaled quail is found throughout the state. These birds prefer semi-arid rangelands and desert grasslands with a mix of shrubs, grass and bare ground. Scaled quail are usually found near mesquite, prickly pear cactus and scattered grasses. Their populations are known to fluctuate widely from year to year based on drought or prolonged flooding. The southeastern area of New Mexico is known to be a good area to hunt scaled quail.
Gambel's Quail
Gambel's quail live in the Chihuahuan desert in the southwestern quarter of the state near Arizona. They prefer mesquite-lined rivers, creeks and arroyos at an elevation below 5,800 feet. They are found in river valleys and drainages, especially those next to cultivated fields. Indicator plant species to look for are desert hackberry, catclaw acacia, skunkbush, prickly pear cactus, chollas, scrub oak and various species of desert thorns. The Apache and Sitegreaves National Forests that straddle the New Mexico-Arizona border are a good place to hunt this species of quail.
Bobwhite Quail
Bobwhite quail live in eastern New Mexico along the Texas border in landscape dominated by mixed brush and grassland. They are also found in cultivated farmland, where they will feed and roost. Bobwhites prefer landscapes where there is a mixture of bare ground, grass and woody vegetation. Landscapes where there are ample legumes and forbs that attract insects, a primary food source of the bobwhite, are good indicators of bobwhite habitation.
Mearn's Quail
The Mearn's quail is also known as the Montezuma quail. It is found in the southwestern corner and south-central region of the state. This species prefers grassy areas dominated by timber. Areas where they are found include the Cibola National Forest, the San Andres Mountains and the Sacramento Mountains. They can be found in areas of higher elevation, such as high savannas, foothills and evergreen mountains.