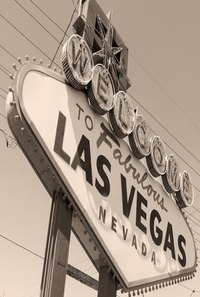 Colonel John Freemont, the first senator of California, discovered Las Vegas' water meadows in 1844. Moreover, the legendary Las Vegas downtown, where its oldest hotels and casinos reside, carries Freemont's name: Freemont Street. The railroad of 1905 brought the first businesses to Las Vegas; however, the hotel and casino boom, for which Vegas is known, began in 1931 with the completion of Boulder Dam and legalized gambling.
Golden Gate Hotel and Casino
The Golden Gate Casino, founded in 1906, is one of the oldest hotels in Las Vegas. Moreover, the hotel embraces the historic past of Las Vegas and claims to continue to embrace the 1920s and the Rat Pack era that made Las Vegas famous. The casino and hotel encompass a 10-story, four-block area on Freemont Street and feature free concerts and other events. The hotel has 106 remodeled rooms that feature flat-screen televisions and iHome radios while staying true to the heritage of the hotel. As of 2010, rooms are available for $19.70 per night and the price includes a $25 credit to the Golden Gate Casino.
Golden Gate Hotel and Casino One Fremont Street Las Vegas, NV 89101 800-426-1906 goldengatecasino.com
El Cortez Hotel and Casino
The El Cortez, built in 1941, sits in downtown Las Vegas and claims to be one of Las Vegas' longest standing hotels and casinos. Currently, El Cortez features over 300 rooms, convention rooms, three casino bars, 24-hour security and a fitness center. In addition, the hotel underwent $25 million in renovations, which included transforming the hotel's suites into cabanas. Prices depend on day and season, but single occupancy begins at $28 per night (as of 2010). The El Cortez casino covers over 45,000 square feet and features 1,100 slot machines, 20 gaming tables, a sport's booking service, baccarat and roulette. The hotel offers low-ante gambling tables for those learning the rules of gaming and gambling. El Cortez also features two full-menu restaurants, The Flame Steakhouse and Cafe Cortez.
El Cortez Hotel and Casino 600 Freemont Street Las Vegas, NV 89101 800-851-1703 ecvegas.com
Golden Nugget
The Golden Nugget, built over 60 years ago, remains the premier classic hotel of Vegas on Freemont Street, and it is also the largest hotel and casino in downtown Las Vegas. The Golden Nugget's name originates from a 61-pound gold nugget on display inside the casino. The hotel possesses over 2,400 rooms designed in Victorian gold-leaf facade. In addition, the hotel features 171 luxury suites, nine penthouses, a pool with a 200,000-gallon aquarium around the pool deck, a wedding chapel, convention rooms, health club, spa, Jacuzzi, two 24-hour gift shops, two high-end boutiques and a business center with access to FedEx.
Golden Nugget 129 East Freemont Las Vegas, NV 89101 800-851-1703 goldennugget.com