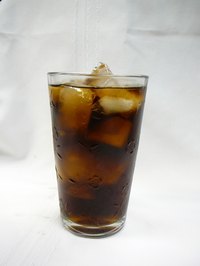 Everyone's body works differently. Some people may struggle with weight gain while others are gluten-intolerant. If you want to eat healthier, eliminate processed foods and add more fresh food to your daily diet.
There are 10 food items and beverages you should eliminate from your diet for the healthiest eating. If you have a difficult time eliminating everything at once, work on one item at a time to reduce your intake gradually. If you replace these food items with nutritious, fresh food, you may decrease your risk of certain illnesses and other health conditions.
Soft Drinks
Soft drinks can be cold, refreshing, sugary and addictive. Many soft drinks contain significant amounts of caffeine. Soda drinkers may unknowingly develop a dependence or addiction to caffeinated, carbonated beverages.
There is little to no nutritional value in soft drinks, so they should be eliminated from your diet first. Increase your intake of water and tea, and drink all-natural fruit juices when you're craving some sugar.
Diet soda is not an acceptable replacement. Although nutritionists and physicians still debate the possible effects of aspartame and other sugar substitutes, some studies show that switching to diet soda does not necessarily lead to weight loss.
Coffee Shop Drinks
Like soda drinkers, some caffeine addicts may satiate their cravings with modified "coffee" drinks. Although black coffee or coffee with a little splash of milk are low-calorie options, today's coffee shops offer many drinks containing cream, sugar and other additives.
If you need some caffeine, order a basic cup of coffee and add small amounts of the milk, cream or sugar yourself.
Enriched Flour Products
You should avoid most commercial white bread and other baked products containing enriched flour. "Enriched flour" indicates that the flour has been bleached and stripped of valuable nutrients. Purchase whole-grain breads and pastas instead.
Baked Goods
Large cheese Danishes and muffins the size of your fist are not a good option for your daily diet. The portion sizes of baked goods are out of control. These baked goods typically contain enriched flour, a large amount of sugar and trans fats.
If you have access to a label, check to ensure that the food does not contain any "partially hydrogenated" oils from hard-stick margarine. Even if you see "NO TRANS FAT" on the box, check the Nutritional Facts anyway. Some companies can get away with this label by deliberately basing their claims on a very small portion size. If in doubt, check the ingredients.
Pre-Packaged "Instant" Rice
If you want to cook rice, purchase bags of white or brown rice. Avoid boxed rices that include seasoning packets. Although the results can be delicious, flavoring packets contain high amounts of salt and other preservatives. Read the Nutritional Facts on the side panel; most of these rice products are very high in calories.
Cook white and brown rice on the stove or in a rice cooker. If you want the rice to have more flavor, add some herbs, spices and salt-free seasonings after you cook the rice.
Canned Meats
Canned meats, such as canned chicken and Spam, are full of preservatives. Although canned meats can be useful in an emergency, do not include them as a regular part of your diet.
Canned Soup
Most canned soups are very high in sodium. If you don't have time to make your own soup or stock, look for low-sodium options at your local grocery store.
Fried Food
Anything fried may contain some "hidden" calories. Some restaurants may use oils with trans fats, or the fried food may be coated with a liberal amount of buttermilk or eggs. Stick with grilled or baked meat and vegetables.
If you want to indulge in fried food once in a while, fry the food yourself so you can choose the oil and adapt the recipe.
Fast Food
A big helping of French fries can be a treat once in a while, but you should eliminate fast food from your daily diet. Most of the food is fried in oil and rarely contain a significant amount of healthy vitamins and minerals. Limit your fast food intake to a couple times a month.
Fruit Snacks
Why eat fruit snacks when you can actually eat fruit? Although some brands may add essential vitamins and minerals to the fruit snack, gummies, fruit rolls and other processed fruit snacks can contain lots of sugar and other additives. Opt for a natural approach and choose fresh fruit instead.