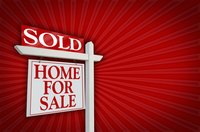 The topic of sign dimensions used to confuse even the most seasoned Florida real estate professionals. Indeed, statutes and rules seemed to change all the time until the state Department of Business and Professional Regulations made the sign requirements simple. The state regulations in question have always centered around signage at a real estate brokerage office—not the lawn signs displayed by Realtors at homes listed for sale. There have never been any statewide rules about real estate yard signs, with any requirements for them set at the county or local level.
Rules for a Broker's Office Sign
The rules for signage at a broker's real estate office are spelled out in Florida Statute 475.22. It states that a broker must have a sign at the entrance of his principal office and each branch office, and the sign should be easy to see by visitors. Each sign must contain the name of the broker, together with the trade name, if any. At a minimum, the words "licensed real estate broker" or "lic. real estate broker" must also appear on office entrance signs.
Real Estate Sign Dimensions
In terms of dimensions of yard signs, there are no real estate license law requirements, according to Florida real estate attorney and Florida Realtors Real Estate Hotline Manager Rania Soliman. However, she cautions that zoning regulations created by Florida's 67 counties as well as at the local level may dictate the size of the signs.
Letter Sizes and Tempoary Signs
There are no state letter-size regulations for lawn and right-of-way signs, but county and local zoning regulations may apply. Moreover, local ordinances may set additional rules for temporary signs that real estate agents use, especially those that are placed in right-of-ways to guide home shoppers to an open house or a house for sale.