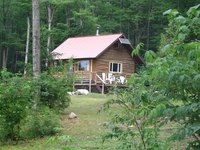 Bordered to the north by Lake Erie and home to many other smaller lakes, Ohio offers several options for staying in a cabin by a lake. Ohio lakeside cabins come in all sizes and price ranges, with varying amenities and locations. Generally, they are rented on a weekly basis, but some can be rented for the entire summer.
Seneca Lake Cabins
Located on 134 acres overlooking Seneca Lake in southeast Ohio, Seneca Lake Cabins offer a peaceful and picturesque setting, according to the Seneca Lake Cabin website. Each cabin includes towels and linens, gas grills, fire pits, full kitchens, satellite TV, gas fireplaces and hot tubs. Visitors can find plenty of activities nearby, including swimming, boating, golf and hiking. Cabins can be rented by the night or the week.
Seneca Lake Cabins P.O. Box 403 Senecaville, OH 43780 740-685-2896 senecalakecabins.com
Hickory Lakes Campground
Surrounded by three lakes, the Hickory Lakes Campground features cabin rentals, as well as 200 campground sites. As the Hickory Lakes Campground website states, the campground is in Ashland County in northeast Ohio Amish country. Guests can enjoy horseshoe pits, paddle boats, fishing, hiking trails, a playground and swimming. The campground hosts special events, such as Fourth of July celebrations and NASCAR weekends. Cabin rentals start at $50 per day or $300 per week.
Hickory Lakes Campground 23 Township Road 1300 West Salem, OH 44287 419-869-7587 hickorylakescampground.com
Kaspar's Lake Breeze Cabins
Situated on the shore of Lake Erie, Kaspar's Lake Breeze Cabins offer easy access to Marblehead Lighthouse, Cedar Point, Put-in-Bay and Kelley's Island. Open from May to October, Lake Breeze Cabins rent by the week during the summer months, with nightly rentals available in the spring and fall, according to the Lake Breeze Cabins website. The furnished cabins include two bedrooms, kitchenette, air conditioning, televisions, picnic tables and charcoal grills.
Kaspar's Lake Breeze Cabins 11112 E. Bayshore Road Marblehead, OH 43440 419-798-5410 lakebreezecabins.com
Secluded Lake Lodge
Secluded Lake Lodge in central Ohio lives up to its name by offering optimum seclusion and privacy. According to the website, the lodge is ideal for retreats, conferences or family vacations with its four large bedrooms, full kitchen and large meeting room/dining room. Guests can take advantage of the one-acre lake, hiking trails, bonfire ring and four-person boat, all available on the grounds. Guests also can camp near the lake in tents, trucks or small campers. Fishing and hunting are also available on the property's 80 acres. Rates are quoted per night, with special group rates and extended stay rates available.
Secluded Lake Lodge Newcomerstown, OH 43832 520-456-0296 secludedlakelodge.com